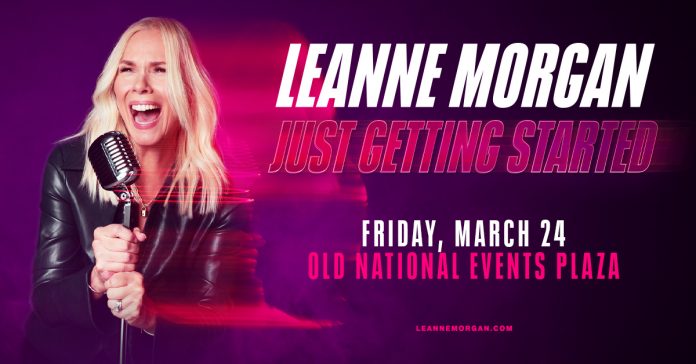 TICKETS GO ON SALE NATIONALLY ON FRIDAY, OCTOBER 28, 2022 AT 10 AM
Evansville, IN –   –  Comedian Leanne Morgan is stopping by Old National Events Plaza on March 24, 2023, with her new national tour, Just Getting Started. Evansville is the seventh stop on the new tour, allowing fans to be among the first to see the funny lady's new material!
The tour's name is inspired by Leanne's career, which began serendipitously 22 years ago when the mother of three realized her calling was making people laugh. As Morgan's comedic career continues to flourish, she hopes to show others it's never too late to start something you love!
The comedian's unique brand of comedy results from her sweet Southern charm and no-holds-barred descriptions of motherhood. Fans relish Morgan's hilarious guidance on what to do when puberty turns your children into monsters, how to face summer when you don't have a bikini body, and the top two things that make a man happy.
Leanne has garnered over 2 million followers across social media and her popular stand-up special, So Yummy, has reached over 50 million views on YouTube. She has appeared on The Kelly Clarkson Show, The View, Nick at Nite's Funniest Mom and toured with the Southern Fried Chicks. Her comedy landed her at the prestigious Just For Laughs Festival in Montreal in 2022. Morgan also has development deals for her own sitcom with ABC and Warner Brothers, writer/producer Matt Williams (Home Improvement), TV Land and Sony Television.