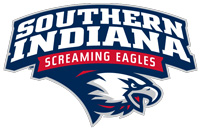 The University of Southern Indiana's sophomore Mckenna Cavanaugh has been named the Women's Indoor Track Athlete of the Week by the Great Lakes Valley Conference Thursday morning.
Cavanaugh helped aid the USI Women's distance medley relay team to a NCAA II provisional qualifying time of 11 minutes, 48.10 seconds. Cavanaugh's 1600-meter split to close out the race was an impressive 4:55, making up three seconds in the process and giving the Screaming Eagles a victory over University of Indianapolis, Sunday. The distance medley relay time is ranked 15th in Division II and was fast enough to qualify for the NCAA II Indoor Championships per an announcement from the NCAA, Tuesday.
This is the first career weekly honor for Cavanaugh and runs the team's season total to five as the 2020-21 indoor regular season concludes.
Up Next: Cavanaugh and the rest of the distance medley squad are scheduled to compete in Birmingham, Alabama on March 12 at 8:45 P.M (CST). Live stream and results will be available via NCAA.com.