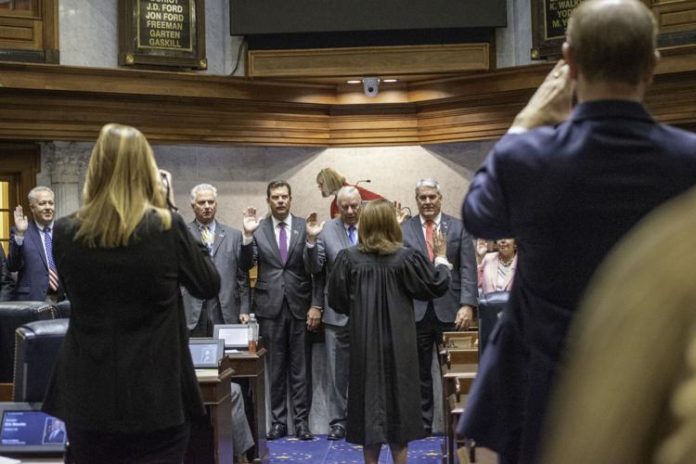 by Jack Sells
INDIANAPOLIS—The Indiana General Assembly came to work at the Statehouse Tuesday for Organization Day, and elected officials—both new and old—filled the chambers.
This election cycle, Republicans lost a seat in the House, but it ended up evening out
, as they added another in the Senate. This gives them 70 of the 100 House seats and 30 out of 40 in the Senate.
Indiana senators take the oath of office, led by Indiana Supreme Court Chief Justice Loretta Rush. Tuesday was Organization Day, the first official day of the Indiana General Assembly's legislative period.
This solidifies the GOP's supermajority status in both chambers for another two years and, for those who follow Indiana politics, makes the party breakdowns nice, round numbers that are easy to remember.
A closer look at some of the numbers around the races reveal some other interesting tidbits and patterns.
Margin Of Victory
The average margin of victory, not counting uncontested races, was higher in the House races—30.2 percentage points—than in the Senate—27.
Not only did Republicans win more often, when they did, it was more convincing. In the House, the GOP averaged wins of 35 percentage points compared to 19.1 for the Democrats, and in the Senate, the breakdown was 28.9 and 17.9, respectively.
(Excluded from these averages are the House District 81 and 90 races, as write-in candidates took less than 2% of the vote in each case, giving the winners, Rep. Mike Speedy, R-Indianapolis, and Rep. Martin Carbaugh, R-Fort Wayne, massive margins of victory.)
Four of the five biggest wins came from Republicans, but with a 65.2-percentage-point margin of victory, Rep. Vanessa Summers, D-Indianapolis, had the largest triumph.
A repeat appearance since 2020 on this hypothetical top-five list comes from Rep. Craig Snow, R-Warsaw. Snow won by 56.2 percentage points in 2020 (good for second-biggest margin), was redistricted and then won this year by 63 percentage points (good for third-best).
Two years ago, Rep. Rita Fleming, D-Jeffersonville, had only a third-party candidate to face off against and won handedly—by 55.2 percentage points. This year, her reelection attempt was no sure bet.
Not Everyone Can Be A Big Winner
The closest races were also all for House seats. And they were closer than in 2020, with five races determined by 2 percentage points or less.
View from the public gallery of the Indiana House Chamber prior to the start of the session Tuesday. The room was packed for Organization Day, the first official day of the 123rd General Assembly.
The people of House District 62 really had incoming Republican Rep. Dave Hall and Democrat Penny Githens biting their nails, as Hall received 12,990 votes—just 40 more than Githens.
Other close wins included Rep. Mitch Gore, D-Indianapolis, by 2%; incoming GOP Rep. Kyle Pierce by 1.8% (over former Rep. Terri Austin); Fleming by 1.2%; and Democrat Victoria Garcia Wilburn by 1%.
Election Days are likely especially nerve wracking for Gore, as he also had a close victory in 2020, winning only 51.3% to 48.7%.
Uncontested Races
After two straight election cycles of 31 uncontested House races, there were 42 in 2022—44 if you count the House District 81 and 90 races.
Maybe less surprising was the fact that these races favored Republicans by a count of 31 to 13—which means that as many House races as Democrats won in total, Republicans won unchallenged.
This has been an emerging trend over the last four years. In 2020, the GOP took more uncontested races than Democrats, but in 2018, 21 Democratic wins were uncontested versus only 10 for Republicans.
For each party, around 44% of their wins were unchallenged in the House.
Looking at a smaller sample size in the Senate, eight of the GOP's 22 wins were uncontested, while none of the Democrats' three wins went without an opponent.
Also notably, while there were more one-candidate contests, third-party candidates stepped up in five cases, becoming the second option. This was after the 2020 election in which only one Libertarian took home the consolation prize of second place.
FOOTNOTE: Jack Sells is a reporter at TheStatehouseFile.com, a news website powered by Franklin College journalism students.