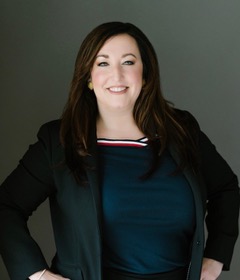 Bringing It Home: How an Evansville Native Made History
June 17, 2023
By Xain Ballenger, The City-County Observer
Last November, a glass ceiling shattered as Diana L. Moers ran for and was elected the first female Prosecuting Attorney in Vanderburgh County. Now nearly a half-year into her tenure, Moers spoke to the City-County Observer about growing up in Evansville, the trajectory of her legal career, and what it means to return to her hometown and serve as its elected Prosecutor.
Early Life
Moers' family traces its roots in Evansville back to the 1900s when they arrived as talented brick-layers.  Moers was born at Deaconess, now known as Deaconess Midtown. Her dad, Tim Moers, was a foreman of construction crews and her mom, Sue Moers, was a homemaker and staunch school supporter.
Moers graduated from North High School where she was the captain of the tennis team and president of the debate team. In 1999, Moers was named a State champion in policy debate with her partner, Joshua Claybourn.
Public speaking and leadership are two skills Moers honed at an early age through debate and have proven to be invaluable throughout her career. "Diana has mastered the art of speaking with authority while also being relatable," said Winston Lin, her Chief Deputy, "She is direct and concise, but she also listens to other opinions before she arrives at a conclusion. When you talk to Diana, you know immediately that she is genuine because you can sense the purposefulness in everything she does and, more importantly, that she is not afraid of making hard decisions to achieve her goals."
Education and Early Career
Moers attended Indiana University in Bloomington, where she earned a bachelor of arts degree in political science and a minor in international studies. Next up was law school at Western Michigan Thomas Cooley Law School in Lansing, Michigan.
Moers always knew that she wanted to do trial work.  After law school, she served as an assistant state's attorney in the Will County Prosecutor's Office located south of Chicago in Joliet. "It was the type of job where if you wanted to do lots of trials, you definitely would have the opportunity for that," explained Moers, "And I was successful at trials and I really, really enjoyed it."  Moers said the job was stressful and high-paced, but was equally, if not more, rewarding and exciting. "I found being a Deputy Prosecutor to be extremely fulfilling. I loved the work I was doing day to day, I felt good about my contributions to the community I lived in, and I was getting to use my public speaking skills while developing trial skills," said Moers.
Returning to Indiana
Moers knew that she wanted to return to Indiana. After passing the Indiana Bar, Moers moved to Indianapolis where she served at the Secretary of State's Office in the Prosecution Assistance Unit – an arm of the Indiana Securities Division which aids prosecutors around Indiana in the prosecution of violations of the Indiana Securities and Loan Broker Acts. Additionally, Diana was an enforcement attorney for the division who was charged with overseeing the state's investment and financial protection industry. She was sworn in as a special prosecutor for counties all across the state to handle cases developed by the Indiana Securities Division.
"I traveled all around the state with my investigators, and we prosecuted securities fraud, which is more commonly known as a Ponzi scheme," said Moers. Although she was happy that she got to experience living and working in Chicago, she was glad to be back in Indiana. "I just felt really good to be back and contributing to the state I grew up in."
Following her successful tenure in the Secretary of State's Office, Moers was approached by then-Treasurer of State, Kelly Mitchell. Mitchell needed an Executive Director for the Board for Depositories, which was a board monitoring the financial institutions in the state. Moers served as the Executive Director of that board, which included government officials like the Lieutenant Governor, the Governor, the State Board of Accounts, the Director of Financial Institutions, and the head of banks and credit unions around Indiana. "This position was a tremendous opportunity to work with high level government officials and private officers. I had always admired Kelly Mitchell, who is a dedicated public servant, and felt it was an honor to work for her," said Moers.
Feeling the itch to be in the courtroom again, Moers accepted a litigation role with the Indiana Attorney General. After only a year, Moers was promoted to Section Chief of their government litigation section. In this role, she managed a large team of attorneys in defending the state, its agencies, and officials, including judges and prosecutors in civil rights lawsuits that could lead to federal and state jury trials.
Running for Office
Running for Prosecuting Attorney remained in the back of Moers' mind for several years. What ultimately pushed her to pursue this dream was the disturbing news that she was reading about in her home county of Vanderburgh.
While reading the local paper and talking to her friends in law enforcement, it was evident to Moers that there was an overwhelming crime problem in Vanderburgh County and ongoing difficulties with how the Prosecutor's Office was being ran. "It just broke my heart that when you search for "Vanderburgh County Prosecutor's Office" on the internet, that all these stories of scandals show up. And that is not what the office is for. I am very passionate about not only doing things the right way, but serving the taxpayers and prosecuting public corruption, too," said Moers.
The election process was long and grueling, but Moers was ready for the challenge and took it one day at a time. Her approach was to focus on the voters and meeting their needs, never saying no to meetings, phone calls, or speaking engagements regardless of who was putting on the event or how many people were attending.
Raising money did not come naturally to Moers, who said it was difficult for her at first to call strangers and ask them for money. But she realized that her grassroots campaign needed funds to get her name out.  She learned that a personal touch was critical because it allowed voters to feel connected to her candidacy. All of the billboards and lawn signs could not outweigh the importance of contacting individual voters.
Realizing the Dream
Moers officially won the race for Prosecuting Attorney on November 8 of 2022. "I was very strategic about what I was doing and very intentional with how I spent my money. To know that all of that paid off, and my dream had been realized, was one of the best days of my life," shared Moers.
When asked about her impact as the first female prosecutor, Moers said, "I hope that young girls especially see me doing something like this. And when people tell them they don't belong at the table, they can see that actually, women do have a seat at the table. It is important to me that when people envision a leader, they don't automatically think of a man in a suit, they think of a woman, also," stated Moers.
Moers also stated that the best part is working really hard for the place you grew up in and it feels awesome to make this her life's work.
Being Sworn In
Moers recalled that it was great to have her husband with her the day she was sworn into office, but she had started working long before that day. "The minute that I won, we started meeting with everybody in the office. I would come in and sit in an office space and I interviewed the staff with my Chief Deputy. By the time I started on day one, we already had a good idea of some things we were going to do, but we also took a careful approach and did not make substantial changes until we better understood how things actually worked," said Moers.
"We have an excellent core of people in the office who care deeply about protecting the citizens of Vanderburgh County and achieving justice for victims, the community, and the state," said Moers, "One of the most important things we learned about the office was that, while its primary duty is prosecution, the office is instrumental in helping people in numerous other ways whether through our Victim Advocates, Child Support, or Adult Protective Services units.
Goals
Moers outlined her goals for the office and what she plans to accomplish during her tenure. Moers is currently working to establish a Crime Gun Intelligence Center, stating that the Vanderburgh County Prosecutor's Office will partner with the Evansville Police Department, the Vanderburgh County Sheriff's Office, and federal agencies to tackle this initiative.
"Vanderburgh County is at a tipping point where we see high levels of crime, especially violent crime involving guns and/or drugs, that should, and must, be addressed proactively," said Moers, "We're gathering resources to make sure we're using everything we have so all of our agencies can pool our resources together to fight back against the criminals who use guns."
An ongoing goal of Moers is to have great courtroom results and to have the best Deputy Prosecutors in the state. She encourages her Deputies to collaborate and continue to do their best to serve the people of Vanderburgh County. "I will not be starting new Deputy Prosecutors on felony cases. I start them with misdemeanors so they're well-trained by the time they're handling higher profile cases. This best serves the victims, our witnesses including officers, the courts, and the public," said Moers. "We are fortunate to have many experienced deputies in the office who can share their expertise and experiences with younger deputies, and we are always on the lookout for attorneys who are interested in public service and making a difference in the safety of this county that we call home."
Moers made clear her desire to serve everyone in Vanderburgh County by fighting fairly for justice, elevating the practice of criminal law in the county through her office, and to make her hometown a safer place.  Moers wishes to serve as the Vanderburgh County Prosecutor for many years to come.
FOOTNOTE: Xain Ballenger is a reporter for TheStatehouseFile.com, a news website powered by Franklin College journalism.