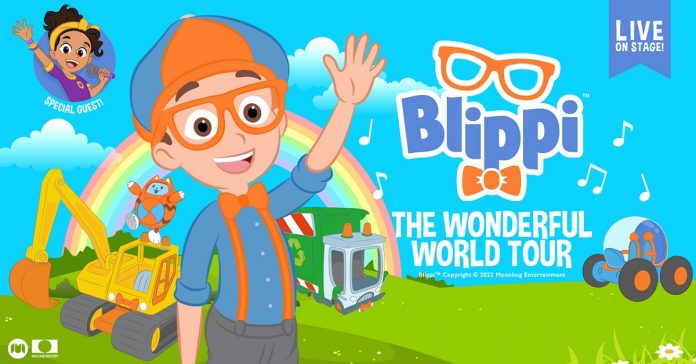 TICKETS GO ON SALE NOVEMBER 18 AT 10 AM
Round Room Live and Moonbug Entertainment are proud to announce a new live show, Blippi: The Wonderful World Tour! The new production will bring the vivacious, energetic, and educational antics of global sensation Blippi to Old National Events Plaza on June 9, 2023.
Families can dance, sing, and learn with Blippi and special guest Meekah as they discover what makes different cities unique and special. Blippi: The Wonderful World Tour is the ultimate curiosity adventure with monster trucks, excavators, and garbage trucks galore! So, get ready to shake those wiggles out and OJ Twist your way through this brand-new musical party! The character Blippi will be played by professional performers selected specifically for the stage show Blippi: The Wonderful World Tour.
Blippi and best friend Meekah inspire curiosity in preschoolers around the world by creating content and experiences that are relatable, accessible and make learning fun. Blippi has become a worldwide sensation with more than one billion monthly views on YouTube and more than 50 million fans around the world. Blippi is available in more than 20 languages, including ASL, and is distributed by more than 30 global broadcast and streaming partners around the world including Netflix, Hulu, Amazon Prime, Roku, Virgin Media and Kidoodle.  Meekah, Blippi's creative, inventive, cart-wheel-loving pal, stars alongside Blippi in Blippi's Treehouse on Amazon and recently launched her own YouTube channel in September.
For more information, fans can visit blippiontour.com and follow Blippi On Tour social media for exclusive tour content.
Ticket Information:
What:                  Blippi: The Wonderful World Tour
When:                  Friday, June 9, 2023 @ 6:00pm
Where:                Old National Events Plaza | 715 Locust Street | Evansville, IN 47708
Tickets:                Tickets start at $27.50 plus applicable fees and tax. Meet and greet is $50 per ticket at any level.
Each adult and child (age two and up) in a group must have a Photo Experience ticket to attend. The Photo Experience will start shortly after the end of the show.
Tickets are available at Ticketmaster.com or the Old National Events Plaza Box Office. For more information about the Aiken Theatre, visit: www.oldnationaleventsplaza.com.