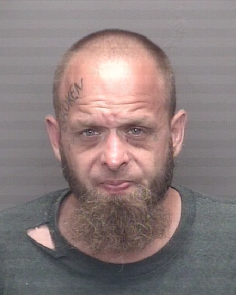 On January 16th, around 4:25 p.m., an EPD Officer working motor patrol in a marked squad car conducted a traffic stop on an individual who was riding a bicycle. The individual was identified as Robert Medlock. Medlock was riding his bicycle in the roadway and disregarded a stop sign at the intersection of Fourth Ave./Florida St. The officer witnesses the traffic violation and initiated his emergency lights. Medlock rode his bicycle into a yard and the officer exited his vehicle and approached Medlock. 
The officer explained why he stopped Medlock and asked for identification. The officer also asked if Medlock had any weapons on his person. Medlock did have a pocket knife on him. The officer asked if he could check his pockets and removed the knife. The officer also found a small container that contained a crystal-like substance that the officer recognized as methamphetamine. The officer told Medlock to drop his backpack and put his hands behind his back. The officer attempted to handcuff Medlock but Medlock attempted to run. The officer grabbed Medlock's coat and Medlock tried to get away. The officer and Medlock went to the ground and Medlock began fighting with the officer. The officer drew his Conducted Electrical Weapon (CEW) and attempted to use it in order to gain control of Medlock. The CEW was unsuccessful and Medlock began to kick and strike the officer in the face. The officer and Medlock began to fight over control of the CEW but Medlock was able to fire the CEW, striking the officer in the right ear with both prongs. Medlock cycled the CEW threw times and caused neuromuscular incapacitation in the officer's right arm. 
Medlock ran away after the third cycle. The officer was able to get up and run after Medlock. He gave Medlock multiple commands to stop and get on the ground. Medlock refused to listen to any commands and gained entrance into a detached garage in the 1100 block of Georgia St. There were individuals inside the garage at the time and did not know Medlock. Medlock armed himself with an axe and blocked the door. He prevented the officers from getting inside. He also prevented the 3 individuals from exiting the garage. Officers eventually opened the door and got Medlock out of the garage and into handcuffs. While attempting to get 
Medlock into the transport vehicle, Medlock kicked another officer in his shin and also caused a laceration to that officer's hand. 
Medlock was transported to the Vanderburgh County Confinement Center and charged with 2 counts of Battery on Law Enforcement, 2 counts of Resisting Law Enforcement, Disarming a Law Enforcement Officer, Burglary, Confinement, Possession of Methamphetamine, Obstruction of Justice, and Battery with a Deadly Weapon. Medlock had an active Felony Warrant for a Parole Violation. Medlock had previously been convicted of Domestic Battery, Dealing Meth, and Burglary. 
The officer involved in the initial incident sustained multiple injuries including two puncture wounds to his ear, cuts on his right neck, contusion on his hand, laceration on his finger, a laceration on his tongue, and a chipped tooth. The officer was taken to a local hospital for medical treatment but has been released