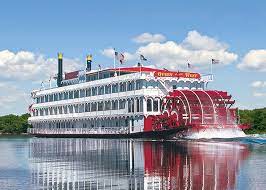 Evansville, IN – August 1, 2022 – Visit Evansville and American Cruise Lines have announced the return of cruise ships to Evansville's Ohio River shore.  The first ship to arrive will be American Heritage, a classic newly renovated paddle-wheeler boat carrying 150 passengers.  The riverboat will moor on Monday, August 8 at the dock formerly occupied by the LST 325 and will offer daytime excursions for passengers from approximately 8:30 AM – 12 PM.  A welcome ceremony will be held at 8:15 AM, with greetings from the mayor, community ambassadors, and other City and County officials.
"American Cruise Lines is so pleased to be visiting Evansville, as we continue to grow and offer more cruises on the Ohio River. Together with community partners, we are building for the future of Ohio River cruising, including more riverboats, new ports of call, and new opportunities for guest enrichment throughout the surrounding communities," said Paul E. Taiclet, Executive Vice President, American Cruise Lines.
"We are thrilled to be working with American Cruise Lines to reestablish Evansville as a stop for cruise ships and riverboats along the Ohio River.  Our city, and its unique location geographically, positions us to introduce visitors to a wealth of attractions and amenities in and around our community," said Alexis Berggren, President & CEO of Visit Evansville.
Visit Evansville recently entered into an agreement between the City of Evansville and Inland Marina, Inc. to manage and maintain the dock formerly occupied by the LST 325, to attract riverboats, cruise ships and other tourism-related activities to the area.  American Cruise Lines is the first agreement to be formerly achieved, and the two companies continue to work toward a long-term partnership.
About American Cruise Lines
American Cruise Lines offers river cruising and small ship coastal cruising in the U.S.A.  Year after year, America continues to launch the newest U.S.-built ships and uniquely curated itineraries for exploring and Cruising Close to Home®. On all American cruises, guests discover the history, spirit, and culture of the United States aboard a sophisticated fleet of American riverboats and small cruise ships. American operates 15 ships, all accommodating just 100-190 passengers, which cruise more than 35 domestic itineraries in 34 states. American offers domestic Flat-Rate Airfare for all its U.S. cruises and complimentary pre-cruise hotel stays for all Mississippi River cruises.  
 About Visit Evansville
Visit Evansville is the official sales and marketing agency for tourism in Evansville, Indiana and Vanderburgh County.  Visit Evansville is dedicated to marketing and supporting local hotels and attractions and enhancing the area's economy by selling the region as a premier destination for conventions, meetings, sports events, leisure, and business.  Additionally, Visit Evansville operates the Evansville Sports Complex, a state-of-the-art, multi-use sports facility, home to Deaconess Sports Park and Goebel Soccer Complex.