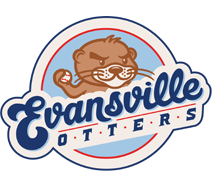 CRESTWOOD, Ill. – Brett Adcock struck out nine as the Otters cruised to a 7-1 win against the Windy City ThunderBolts.
The Otters immediately found the scoreboard in the first as J.R. Davis tripled in Zach Biermann. Directly after, Steven Sensley added a run with a fielder's choice groundout RBI.
In the second, the lead grew again on an RBI double from Bryan Rosario.
Late in the third inning, George Callil grabbed his second hit of the day, this time scoring Elijah MacNamee with a single.
The 4-0 lead held steady into the fifth until MacNamee found a run himself with a solo home run to left field.
In the sixth, the ThunderBolts finally got after Brett Adcock, capitalizing on three straight hits to start the inning. The final hit from Bren Spillane scored the T-Bolts sole run of the night.
Steven Sensley added to the Otters' lead in the seventh, hitting a solo home run of his own to left center field.
In the eighth, Evansville found the run column for the final time in the game. After a leadoff triple from Miles Gordon, Justin Felix's RBI single expanded the lead to 7-1.
Tyler Spring entered the game in the ninth for Evansville, sitting down the ThunderBolts in order.
The win was assigned to Adcock, his fifth of the season. He allowed just one run on six hits, striking out nine in his 6.2 innings. Garrett Christman received the loss, dropping him to 2-5.
MacNamee led the way for the Otters with three hits. Sensley, Gordon and Callil each had two hits as well.
The series continues Wednesday night at 7:05 p.m. from Ozinga Field in Crestwood, IL.