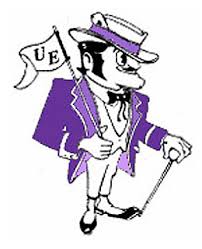 For the first time in the competition's history, University of Evansville mascot Ace Purple has advanced to the semifinals of the Missouri Valley Conference Mascot Madness, presented by Purina Dog Chow.
The Aces are encouraging fans and the community to support Ace in his pursuit of a Mascot Madness Championship.
Fans can visit the Missouri Valley Conference Facebook Page and help Ace Purple defeat Boomer (Missouri State) for a spot in the championship. Voting is now live and polls close today (7/30) at 3 p.m. CT.
When fans are voting for Ace, Evansville asks that they also vote for our ally, Kaboom! (Bradley), who the Aces formed a partnership with at the beginning of the competition.