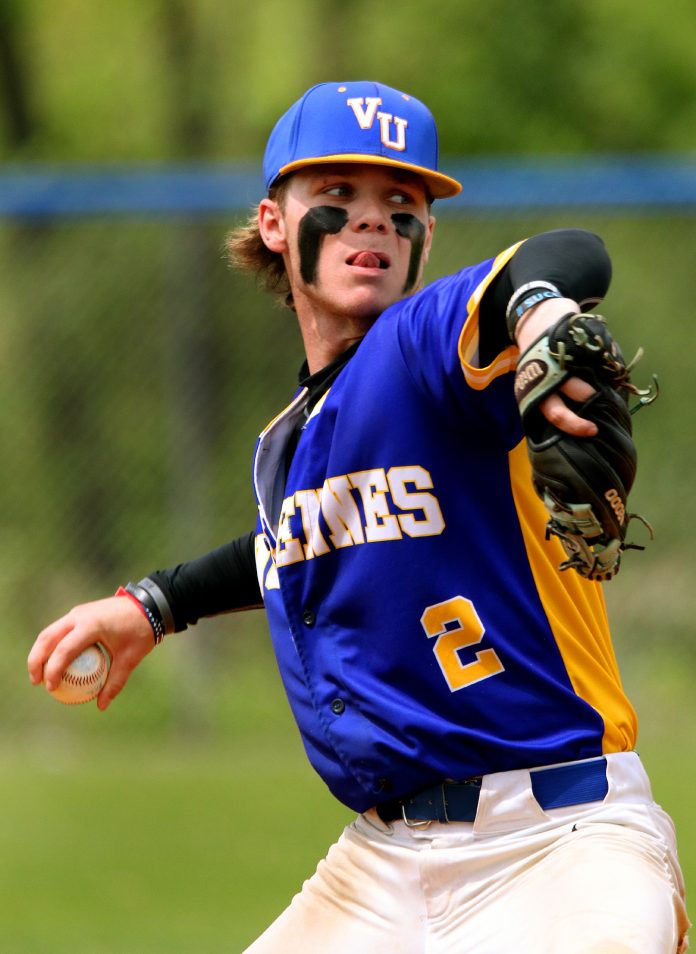 VINCENNES, Ind. – The Vincennes University Trailblazer baseball team opened their four-game Mid-West Athletic Conference (MWAC) series Sunday afternoon by splitting the first two games with Parkland College at Jerry Blemker Field.
The Trailblazers took game one over the Cobras 7-4 behind yet another really great pitching performance behind sophomore Connor VanLannen (Clinton, Ind.).
Parkland battled back to take game two in comeback fashion, winning 7-5 over Vincennes.
Vincennes broke an early scoreless tie in the third with freshman Ethan Burdette scoring on an RBI double by sophomore Colin Long (Evansville, Ind.) to give the Blazers an early 1-0 lead.
VU would tack on another run in the fourth on an RBI single by sophomore Josiah Sizemore (Cambridge City, Ind.).
The Trailblazers blew the game open in the fifth with a big four-run inning started by a walk by sophomore Peyton Lane (New Paris, Ohio) and a double by freshman Colton Evans (Henderson, Ky.).
Connor VanLannen got in on the action helping himself out at the plate with an RBI single, followed by a two RBI triple by freshman Jordan Roth (Delphi, Ind.) and an RBI single by Josiah Sizemore to give VU a 6-0 lead.
Parkland would get on the board in the seventh with three runs to cut the deficit to 6-3.
Vincennes answered back to add an insurance run in the eighth with a walk by freshman Will Egger (Terre Haute, Ind.), who would later score on a wild pitch.
Parkland would try to complete the comeback in the ninth but ultimately came up short as the Trailblazers took game one 7-4.
Connor VanLannen had another impressive game on the mound for Vincennes, throwing into the eighth and allowing three runs on six hits and striking out seven.
Sophomore Braedon Nichols (Sullivan, Ind.) entered out of the bullpen and retired the only batter he faced on four pitches.
Sophomore Luke Osborn (Perrysville, Ind.) came in and close out the remaining one and two-thirds innings, allowing one run on two hits and striking out one.
"Connor VanLannen came out and gave us a great outing," VU Head Baseball Coach Chris Barney said. "He gave us seven innings and then Nichols and Osborn finished it out and did what they have done all year for us. We got some clutch hitting in game one, the hits continued to pile up and we were able to put up a four-spot in game one and also played good defense."
"This was as good as Connor has thrown all year," Barney added. "For him to be able to do it with one more conference weekend to go before the tournament, it should make him feel pretty good. We were able to keep him under 100 pitches and he should be ready to go this coming Friday when we take on John Wood."