Letter To Editor: by Evansville Mayoral Candidate Michael Daugherty  
SEPTEMBER 21, 2023
I would like to thank the Vanderburgh County Auditor, Brian Gerth, for being transparent and responding to my "Public Records Request" in a timely manner.
When a government is not open and transparent and operates behind closed doors, it can only lead to a lack of trust.  A transparent government is more likely to be trusted and extremely effective, as it encourages officials to make decisions based on public needs rather than personal gain.
I have utilized the "Access To Public Records Act (APRA)", to find information about the spending habits of the Winnecke Administration and current members of the Evansville City Council.
Attached below is a copy of a current "Public Record Request" bond debt for Evansville as of September 15, 2023.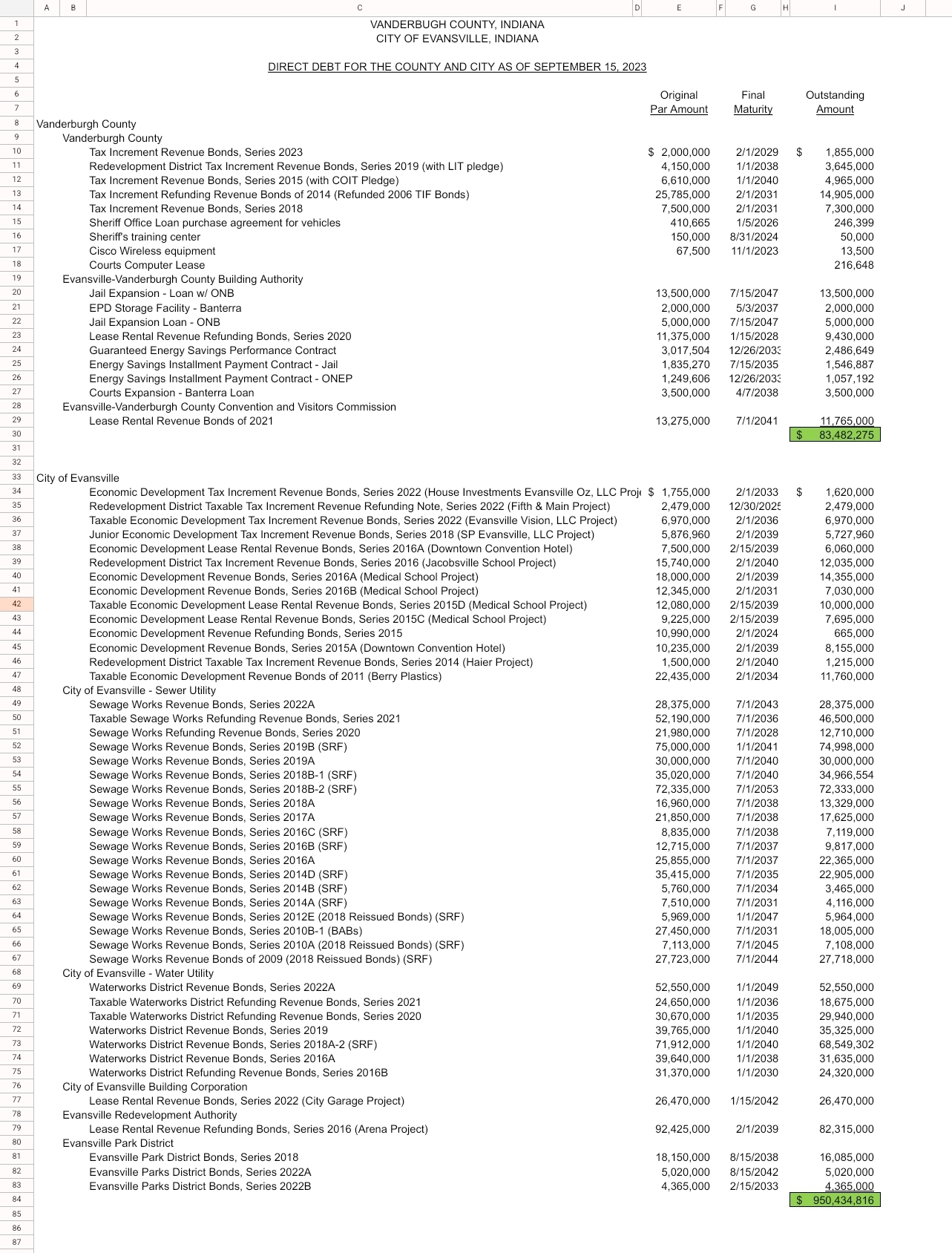 The above image shows that the City Of Evansville currently has an outstanding bond debt of $950,434,816.00 (Almost One Billion Dollars).  This figure does not include any joint City/County bonds.  This report doesn't include any impending capital projects: such as Roberts Park, the building of a new Water and Sewer Treatment plant and the original construction estimate cost is mind-boggling.  Also, completing the massive water and sewer replacement project currently being done throughout our city will also be extremely costly. Some of the bonds were issued because of the Federal (EPA) mandate to correct the massive issues concerning our outdated and dilapidated Water and Sewer systems. Repairing the issues concerning our parks and city streets will also be a big financial burden facing the city.
Excessive city bond debt can be a significant financial burden for a municipality. When a city takes on too much debt through bonds, it can lead to higher interest payments, strained budgets, and limited financial flexibility. This, in turn, may result in reduced funding for essential services like public safety, infrastructure maintenance, and employee salaries and healthcare benefits. It's crucial for city officials to carefully manage and monitor their bond debt to ensure it remains at sustainable levels, allowing the city to meet its current and future financial obligations without compromising its ability to serve its residents effectively.
If you have a question please contact Michael Daugherty at 812-777-8050.
FOOTNOTE:  This letter was sent to the Evansville Courier and Press and the City-County Observer.
The City-County Observer posted this letter without bias or editing.