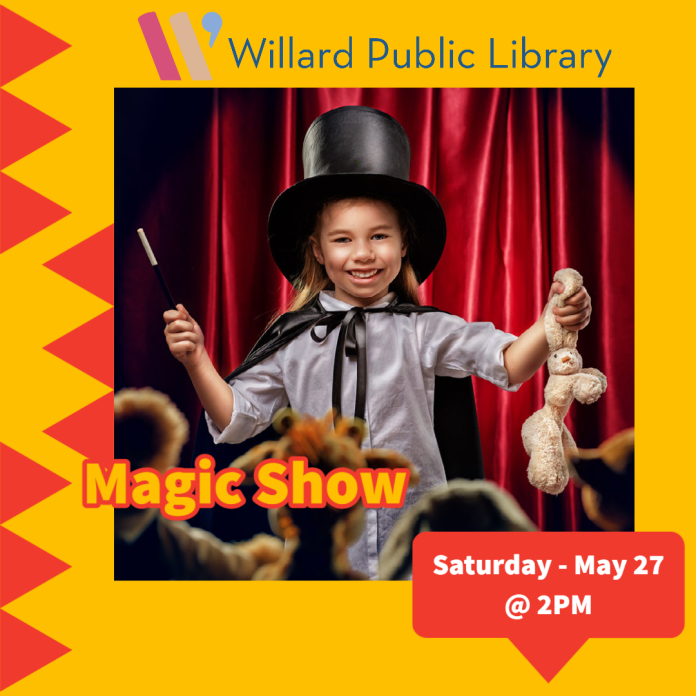 Children's Summer Reading Program Kick-Off Magic Show
Saturday – May 27th @ 2:00PM
The Children's Department at Willard Public Library has an exciting program planned that promises to captivate and inspire children of all ages. Magician, Daniel Herron, will be dazzling the audience with his extraordinary magic show. Prepare to be mesmerized by his incredible tricks and illusions, leaving you and your children amazed and filled with wonder.
But that's not all! Our summer reading program is packed with a myriad of activities, adventures, and the opportunity to explore new worlds through books. Encouraging a love for reading and a thirst for knowledge, our program aims to keep young minds engaged during the summer break.
By participating in our Children's Summer Reading Program, your child will:
Embark on a literary adventure with a wide variety of engaging books.
Earn exciting rewards and incentives for reaching reading milestones.
Enhance their imagination, creativity, and critical thinking skills.
Attend fun-filled events, workshops, and interactive sessions.
Foster a lifelong love for reading and learning.
We believe that reading should be a joyous experience, and our dedicated team is committed to making this summer an unforgettable one for your child. Don't miss this magical kick-off event, as it sets the stage for an incredible journey into the world of books and imagination.
Please note that attendance is free, and no registration is required for the kick-off event. Simply mark your calendars, gather your little ones, and come prepared for an afternoon of sheer delight.
We look forward to seeing you and your children at Willard Public Library on Saturday, May 27, at 2:00 PM. Let's make this summer a time of imagination, exploration, and unforgettable memories.
Willard Public Library is a non-profit organization (501c3) and encourages patrons and visitors of WPL to donate to help support events like this one for years to come >> https://willard.lib.in.us/donate/
Watch the Grey Lady Ghost at Willard Public Library on our World-Famous Ghost Cams >> https://www.willardghost.com/