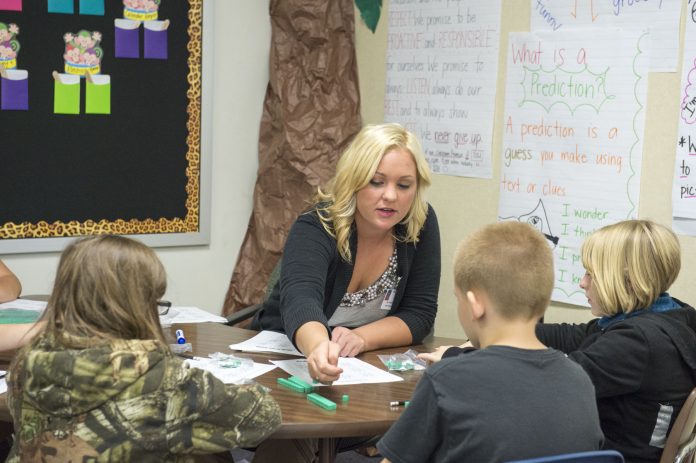 The University of Southern Indiana, in partnership with the Evansville Vanderburgh School Corporation (EVSC), is offering a new program open to high school students in the Evansville and surrounding Tri-state area who are interested in pursuing careers in elementary education. The Academy of Future Educators is a half day program housed at Reitz High School and on the USI campus during students' senior year.
High school students will have the opportunity to complete a minimum of 18 hours of college credit, complete their freshmen education coursework while still in high school, gain over 150 hours of classroom experience and could save more than $13,000 in college expenses. When they graduate from high school, students will have the opportunity for direct admission into the USI Teacher Education program.
The program comes as Indiana faces a teacher shortage. At the beginning of the 2022-23 school year, the Indiana Department of Education reported 1,700 open teaching positions, a downward trend of teachers entering the profession in the last decade and an uptick in current teachers leaving the profession.
Currently, EVSC teacher salary ranges from $41,500 to $80,500 for a 183-day contract, with benefit packages valued from $13,600 to $31,600. Teachers also benefit from more than 15 weeks of non-work time through the year and rewarding retirement benefits. Summer school employment opportunities and athletic coaching positions are also available for additional income.
USI will host an open house at 6 p.m. Wednesday, April 5th at the Fuquay Welcome Center for parents and students to learn more about the Academy of Future Educators Program. To learn more and enroll, visit EVSCschools.com/FutureEdAcademy.
###
Founded in 1965, the University of Southern Indiana enrolls nearly 9,200 dual credit, undergraduate, graduate and doctoral students in more than 130 areas of study. A public higher education institution, located on a beautiful 1,400-acre campus in Evansville, Indiana, USI offers programs through the College of Liberal Arts, Romain College of Business, College of Nursing and Health Professions and the Pott College of Science, Engineering, and Education. The University offers study-abroad opportunities in more than 60 countries and hosts international students from around the globe. USI is a Carnegie Foundation Community Engaged University and offers continuing education and special programs to more than 15,000 participants annually through Outreach and Engagement. USI is online at USI.edu.