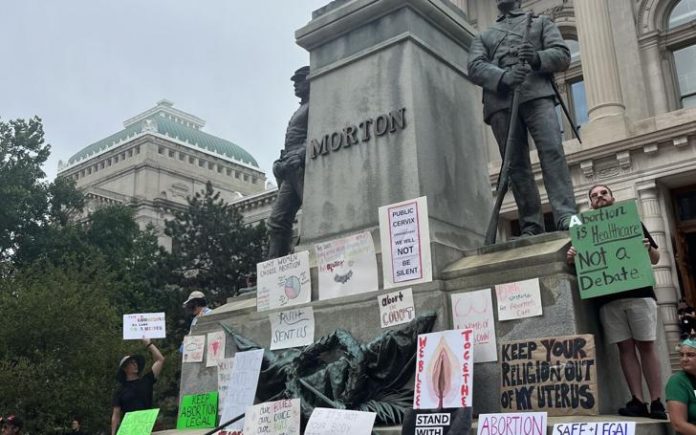 Indiana Faces Abortion Lawsuit From Planned Parenthood And ACLU
By Tabby Fitzgerald, TheStatehouseFile.com
The State of Indiana is facing a lawsuit from the American Civil Liberties Union of Indiana and Planned Parenthood.
The lawsuit was filed recently in Monroe County Circuit Court and claims the ban "strips away the fundamental rights of people seeking abortion care in Indiana in violation of the State Constitution."
In a press release from the ACLU announcing the filing of the lawsuit, Ken Falk, the legal director of ACLU of Indiana, said that whether Indiana's elected officials personally agree with abortion access or not, it is not up to the government to make these decisions for Hoosiers.
"This ban on abortion will force Hoosiers to carry pregnancies against their will, leading to life-altering consequences and serious health risks," Falk said. "Deeply private, personal, and unique decisions about reproductive health should be made by women in consultation with their doctors."
In the same press release, Planned Parenthood Federation of America President and CEO Alexis McGill Johnson expressed support for the lawsuit, saying that "the abortion ban that the legislature rushed through during a special session—nearly immediately after the U.S. Supreme Court overturned Roe v. Wade—is both dangerous and incredibly cruel. We demand more for patients and providers, and we will continue fighting for everyone's right to make their own decisions about their bodies, lives, and futures."
Rebecca Gibron, CEO of Planned Parenthood Great Northwest, Hawaii, Alaska, Indiana, and Kentucky, agreed with Johnson that the ban is "dangerous and cruel."
Attorney General Todd Rokita, in an emailed statement, said, "We don't need the warped opinions of organizations like the ACLU and Planned Parenthood dictating how we do things in Indiana.
"The Left is notorious for fighting to erase all of the progress and protections secured by the pro-life movement," Rokita said. "Hoosiers respect and value all lives, including the lives of the unborn. This is why our legislators voted to stop these inhumane practices, and it's why my office is dedicated to defending this life-saving law."
Indiana's ban on abortion is set to take place on Sept. 15. Once in effect, all abortions at any stage of pregnancy will be prohibited except for "preventing the death or serious risk of substantial and irreversible impairment of the patient, if the fetus is diagnosed with a lethal anomaly, and in situations of rape and incest."
Indiana was the first state to pass a ban after the overturning of Roe v. Wade on June 24. Since then, the Attorney General's Office has claimed four court wins regarding abortion, according to a press release on the AG's website.
It reads, "On July 7, a federal district court granted his motion to lift an injunction on dismemberment abortions. On July 11, a U.S. appellate court vacated judgments in the Whole Woman's Health Alliance v. Rokita case that had invalidated several other Indiana laws. On July 18, a U.S. district court vacated a judgment against an Indiana law prohibiting abortions sought on the basis of the unborn child's race, sex or disability."
As of the writing of this article, according to The New York Times, there is a full ban in effect in Idaho, South Dakota, Wisconsin, Missouri, Kentucky, Oklahoma, Arkansas, Tennessee, Texas, Louisiana, Mississippi, and Alabama. Abortion is banned after six weeks in Georgia and Ohio. Abortion is banned after 15, 18, or 20 weeks in North Carolina, Florida, and Utah.
Indiana is the only state that has a ban scheduled to take effect. Legislation has been blocked from taking effect in Montana, North Dakota, Wyoming, Utah, Iowa, Arizona, Michigan, West Virginia, and South Carolina.
FOOTNOTE: Tabby Fitzgerald is a reporter at TheStatehouseFile.com, a news website powered by Franklin College journalism students.