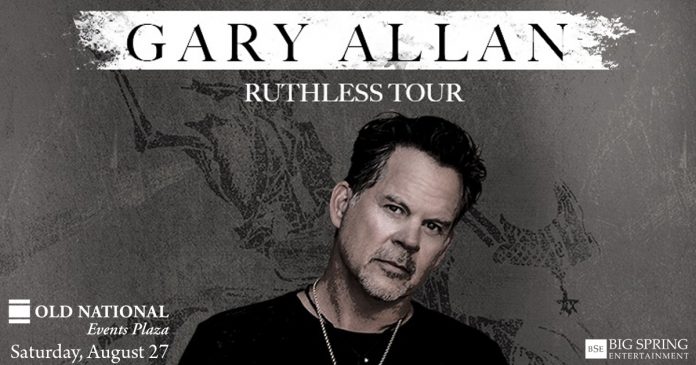 GARY ALLAN RETURNS TO EVANSVILLE THIS SUMMER WITH SIZZLIN'S NEW TOUR
TICKETS GO ON SALE NATIONALLY ON MAY 26 AT 10 AM
Evansville, IN –  May 23, 2022 –  American country music artist Gary Allan returns to the Old National Events Plaza on August 27 with The Ruthless Tour: 25 Years the Hard Way. Fans can expect to hear new music from Allan's new album 'Ruthless,' one he calls his most commanding work ever.
"This is a montage of everything I have done since my last album. It's what I love. I remain influenced by the '90s – as well as by the '80s. Twenty-six tracks were cut for this album.  Then I went back to the studio and recorded three or four more tracks. Then I returned for two more. From each of these many sessions, I pulled out the cool stuff that I wanted on the record," Allan says of Ruthless.
Allan made his country music debut with the release of his single 'Her Man,' leading to his gold-certified 1996 debut album 'Used Heart for Sale.' His second album, 'It Would Be You,' followed in 1998 and a third, 'Smoke Rings in the Dark,' was his first platinum album. He continued producing chart toppers like 'Alright Guy,' and 'See If I Care,' which were both certified platinum, while 'Tough All Over,' 'Greatest Hits,' and 'Living Hard,' all certified gold. His next two albums 'Get Off on the Pain,' and 'Set You Free,'both reached the Top 10 on the U.S. Billboard Top Country Albums charts.
Gary Allans' greatest hits albums have produced 26 singles on the U.S. Billboard Hot Country Songs and Country Airplay charts, including the number one hits 'Man to Man,' 'Tough Little Boys,' 'Nothing On but the Radio,' and 'Every Storm (Runs Out of Rain).'  Allen has been nominated for this work by the American Country Awards, Academy of Country Music, and CMT Flameworthy Video Music Awards.
Ticket Information:
What:           Gary Allan
When:          Saturday, August 27, 2022, at 7:30 PM
Where:         Old National Events Plaza | 715 Locust Street | Evansville, IN 47708
Tickets:        Tickets start at $36.50 plus applicable fees and tax.
For more information about Gary Allan visit www.garyallan.com.
Tickets are available at Ticketmaster.com or the Old National Events Plaza Box Office.
For more information about the Aiken Theatre, visit www.oldnationaleventsplaza.com
About Old National Events Plaza
Old National Events Plaza, managed by ASM Global, is Evansville, Indiana's premier convention center and largest live entertainment theatre. Housing a spacious 2,500-seat theatre, 38,000 square- feet of column free exhibit space, a beautiful 14,000 square-foot ballroom, and 12,00 square-feet of meeting space, Old National Events Plaza hosts a variety of events. The venue offers easy scheduling, one-stop-shop services, and in-house catering and audio-visual services. For more information and a complete schedule of events, please visit www.oldnationaleventsplaza.com.
About ASM Global
ASM Global is the world's leading producer of entertainment experiences. It is the global leader in venue and event strategy and management – delivering locally tailored solutions and cutting-edge technologies to achieve maximum results for venue owners. The company's elite venue network spans five continents, with a portfolio of more than 325 of the world's most prestigious arenas, stadiums, convention and exhibition centers, and performing arts venues. For more information, please visit www.asmglobal.com