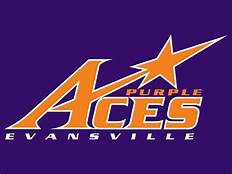 Lickliter Announces Staff Additions For UE Men's Basketball
Aces Enter First Full Season With Lickliter At The Helm
 EVANSVILLE, Ind. – University of Evansville head men's basketball coach Todd Lickliter has announced three additions to his coaching staff as he is set for his first full season at the helm of the Purple Aces program.
Joining the staff as assistant coaches are Brandon Crone and Thomas Jackson with Ryan Combs continuing his work with the program as the graduate assistant.
 Brandon Crone joins the staff after spending the last six seasons working on the staff of his alma mater – Butler.  In his work as the Coordinator of Basketball Operations, he handled a variety of organizational and administrative duties for the Bulldogs, including team travel and scheduling.
"I'm so excited to be joining Coach Lickliter's staff and the UE basketball program. As someone who grew up in Indiana, I know what a great history the Aces have on the court," Crone said.  "Coach Lickliter is one of the best basketball minds around. I was able to learn so much playing for him at Butler and I hope to bring many of those lessons to the University of Evansville."
The Bulldogs made five consecutive postseason appearances to begin Crone's tenure on the Butler staff and were on pace for a sixth in 2020 before the COVID-19 pandemic canceled the remainder of the season.   Four NCAA Tournament berths and a Sweet 16 appearance in 2017 highlighted his tenure.
Crone enjoyed a successful playing career at Butler, helping the Bulldogs to 78 victories and two postseason tournament berths over his four seasons. He was named Butler's Most Valuable Player in 2006-07, after leading the Bulldogs to a 29-7 record and a berth in the NCAA Sweet 16.
After graduating from Butler, Crone went on to play professional basketball for three seasons in Europe. He returned to the U.S. in 2010 and accepted a position as assistant basketball coach at Park Tudor High School in Indianapolis, where he helped lead the Panthers to the 2011 Indiana Class 2A state championship. He went on to serve as an assistant coach for three seasons at Nova Southeastern, an NCAA Division II school in Fort Lauderdale, Fla.
A 2007 Butler graduate with a marketing degree, Crone and his wife, Morgan, are the parents of two children: son, Kellar, and daughter, Arlowe.
"I'm thankful to UE administration and Coach Lickliter for this opportunity and can't wait to get started," Crone added.
Thomas Jackson joins the UE men's basketball program after serving as an assistant coach with the Northern Arizona Suns during the 2019-20 season, his first year with the team.  It marked his third year as an assistant coach in the NBA G League, spending 2018-19 with the Maine Red Claws and 2017-18 with the Erie BayHawks.   In his year with Erie, he helped lead the BayHawks to the Eastern Conference Finals.
Jackson enjoyed a long playing career, including 12 years professionally in Europe. He is one of the best players in Butler University history (1998-2002), a school Hall of Fame inductee. Jackson holds school records for career assists (540), career steals (207, tied), and single-game assists (15). He is still the only player in school history to record 1,000 points and 500 assists.
"For me it is a great opportunity to be part of a program and university that has a deep history," Jackson exclaimed.  "It means so much to be able to influence our student-athletes lives on an off the court."
As a senior at Butler during the 2001-02 campaign, Jackson and head coach Todd Lickliter (in his first season as head coach with the Bulldogs) led the program to a then-school record of 26 wins.
'I am really looking forward to joining the staff and being able to work with Coach Lickliter," Jackson continued.  "He coached me at Butler and we have always had a great relationship."
 Ryan Combs will be joining head coach Todd Lickliter's staff as the Graduate Assistant.  The Vincennes, Indiana native graduated from UE in May 2020 with a degree in Statistics & Data Science.  He is currently pursuing a Master's degree in Leadership.
Combs will be entering his fifth year with the team after serving as a student manager for the Aces from 2016 to 2018 and then as the Program Coordinator for the 2019-2020 season.
FOOTNOTE: For all of the latest information on the University of Evansville athletics, log on to the sports page on GoPurpleAces.com or follow the program on Twitter via @UEAthletics. 
DONATE: For information on giving to UE Athletics or its individual athletics programs, visit the DONATE tab on the top of GoPurpleAces.com.
TICKETS: To purchase tickets for University of Evansville athletics events, log on to GoPurpleAces.com and click on the TICKETS tab on top of the page