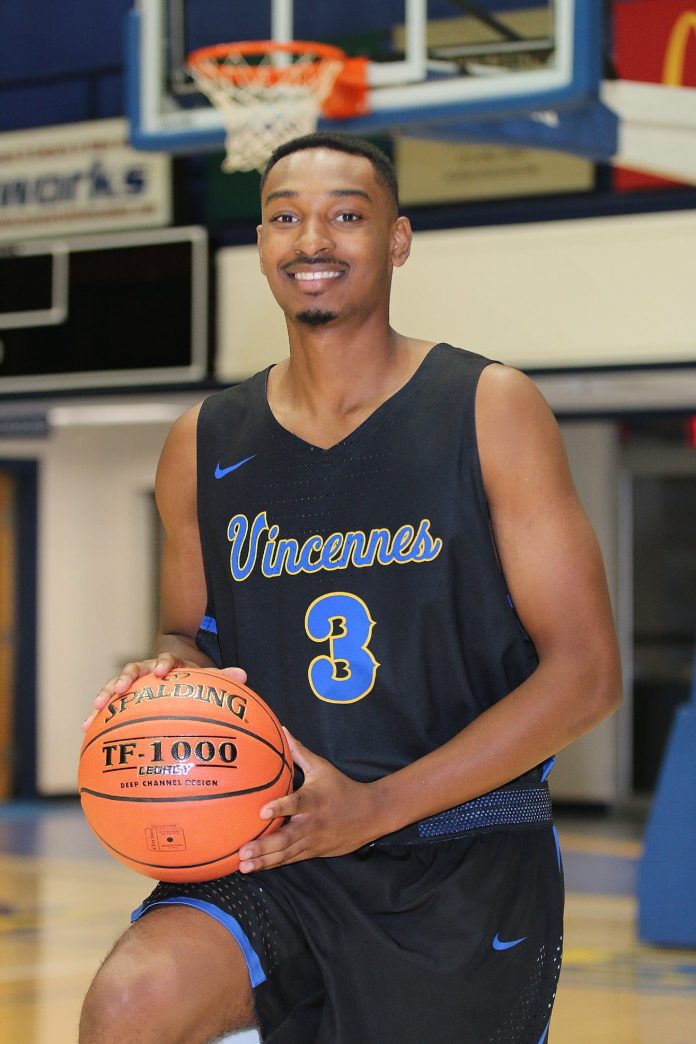 VINCENNES, Ind. – 2019 NJCAA Division I National Champion Michael Rogers is returning to Vincennes University this upcoming season after being hired as an Assistant Coach for the VU men's basketball team.
"It means everything to me to be hired as an Assistant Coach at VU," Coach Rogers said. "It feels almost like I'm coming back home after playing here under the tutelage of Coach Franklin and Coach Davis. It feels good to be back at VU and to be able to pass on my knowledge as a player to the team."
"I missed Vincennes University and my former teammates a lot these last few years," Rogers said. "It's only right that I come back and help the current players and have the coaches help me as well. I want to be a head coach one day and I feel like this is the right place to start, working with Coach Franklin and Coach Davis."
Rogers is a graduate of Evansville Harrison High School and joined the Trailblazers basketball team before the 2018-19 season.
Rogers was a member of the 2019 Vincennes University National Championship team and averaged 2.2 points and 1.5 rebounds per game as a freshman at VU.
Rogers would return for his sophomore season, where he again battled for minutes off the bench and averaged 1.8 points and 1.3 rebounds per game.
Rogers' best game as a Trailblazer came in his freshman season when she scored 14 points against Lincoln Land.
Rogers helped the Trailblazers to a two-year combined record of 62-7, with a staggering 35-2 record inside the Physical Education Complex.
Rogers would then sign to play his final two seasons for his hometown University of Southern Indiana Screaming Eagles.
Rogers played in 20 games in his two seasons at USI and scored 15 points and grabbed nine rebounds for the Screaming Eagles.
"We like to keep is in the family as best as we can," VU Hall of Fame Head Coach Todd Franklin said of hiring Coach Rogers. "We've done that over the years when the opportunities arise. That position for us has been a few different things over the years, but it's usually going to be a younger guy just getting started in the business and that's Michael."
"Michael does know the way things are around here and hopefully he will be a good conduit to the team," Franklin added. "The flow of information is typically better when you have someone who has been through it and truly understands. He can take what I'm saying and add the player's perspective of what he did when he was here and how that affected his life and his game."
"He has that perspective and obviously it was good for the guys that were here with him," Franklin said. "I think he can help with that and I think if a player really wants to know, certainly when you get that perspective from a former player, it should help you buy in."
"The trust factor is always important for us," Franklin added. "My circle is not very big and I don't trust many people. But the one's I do, we are pretty tight. So there is a trust factor there and I think as we try to get this thing kickstarted back to where it was and where we've been for 24 years of getting it right. We want to make sure we've got this thing back on the tracks like it has always been and I think we are on the way to that. We've made strides and gains toward that and I think Michael can help with that."
"On a day-to-day basis he is going to be watching our study tables and making sure the guys are in the gym, things that a young guy does," Franklin said. "I trust he will do a good job of it and we need him to do a job of it. It's a great starter for someone like Michael who wants to get into the business. I think it gives him valuable experience and gets him better connected. Obviously, the better we do, the better it is for him. That is how it works for all these guys, players and coaches. You can see all of our former assistant coaches where they have gone with head coaching opportunities or Division I assistant jobs. That's a byproduct of how things work and how successful you are. Hopefully we will be back to that and I think Michael can be a part of helping us."
"I'm just trying to show the players we have here now what it means to work hard and what it takes to win," Rogers added. "I hope to help bring the winning culture back to VU that I know Coach Franklin and Coach Davis have built. I'm here to give guidance from a player's perspective and just looking for any way to help."
"I feel like I can help the players here stay strong mentally," Rogers said. "It's a long season, especially being here during the summer during preseason workouts, on top of maintaining grades and staying on top of things in the classroom. I feel like I can help the players be stronger on the court and academically."
Rogers is joining one of the best coaching staffs in all of Junior College basketball, with NJCAA Hall of Fame Head Coach Todd Franklin entering his 13th season on the VU sidelines and lead Assistant Coach Brian Davis who was named one of the 50 most impactful coaches in JuCo basketball and will be returning for his 18th season at Vincennes University.
The Trailblazers are coming off of a 12-19 season in 2022 and will be looking to get back on track and reclaim their spot as one of the top Junior College basketball programs in the country.
The Vincennes University Athletic Department welcomes back Assistant Coach Michael Rogers and is excited to have him join the VU coaching staff this coming season.