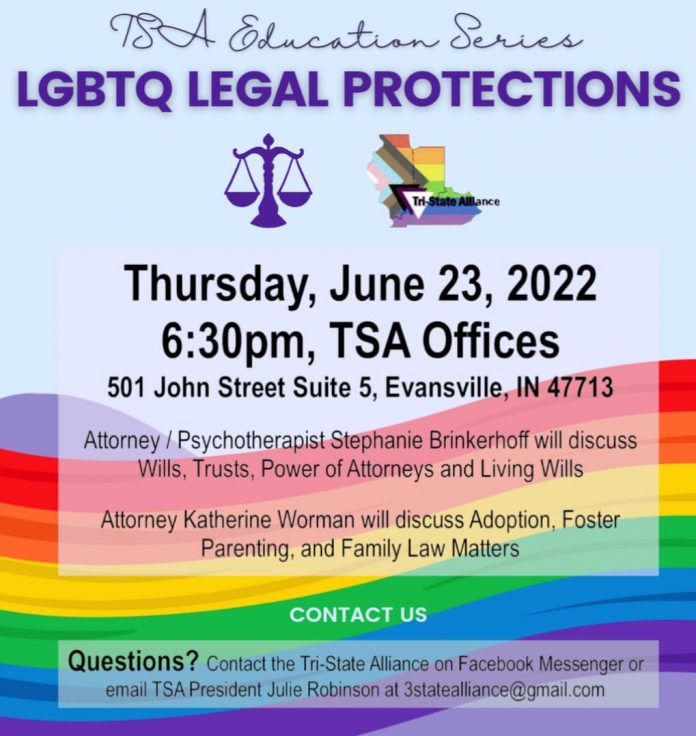 Pride Month LGBTQ Legal Discussion Is Thursday At The TSA Offices
On Thursday, June 23, at 6:30 pm the Tri-State Alliance will have an LGBTQ Legal Discussion at the TSA Offices, 501 John Street Suite 5, Evansville, IN 47713. The discussion is free of charge. Stephanie S. Brinkerhoff and Katherine Worman will be the attorneys giving the discussion.
Stephanie S. Brinkerhoff is a psychotherapist and licensed attorney. She has practiced primarily family law in Indiana since 2001. Stephanie provides therapy services through Within Sight, LLC. I will talk about estate planning including simple wills and trust, Powers of Attorney, and living wills
Attorney Katherine Worman practices primarily family law in Vanderburgh County. She serves as a guardian ad litem in a variety of family law matters representing the best interests of the children she is appointed to represent. Katie is also a registered family law mediator helping families to resolve legal disputes outside of the courtroom. In her free time, Katie enjoys gardening, cooking, and running, having run 8 half marathons and counting. She and her husband, John, an attorney at Worman Legal, also enjoy traveling to the National Parks in their RV along with their Cats.
She will discuss general family law matters, including marriage, divorce, custody, guardianships, adoption, and being a foster parent.