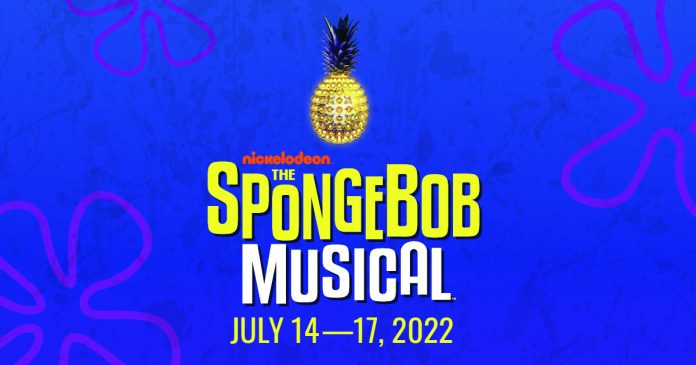 EVSC FOUNDATION AND EVSC PRESENT THE SPONGEBOB MUSICAL
TICKETS ARE ON SALE NOW! 
Evansville, IN –  June 10, 2022 –  The SpongeBob Musical, presented by EVSC and the EVSC Foundation, brings Bikini Bottom to life in a full-length musical comedy for all ages. Based on the iconic Nickelodeon series by Stephen Hillenburg, The SpongeBob Musical offers an expected comical storyline with plenty of entertaining music by artists like John Legend, Yolanda Adams, and Stephen Tyler. Guests will go on an adventure with SpongeBob, Patrick, Sandy, and Squidward as everyone in Bikini Bottom face total annihilation. Luckily, an unexpected hero rises to take center stage.
The EVSC Summer Musical provides students the opportunity to immerse themselves in fine arts and culture through a Broadway-style production. Beyond receiving exposure to the arts, students who participate also develop confidence, character, teamwork and many other valuable lifelong skills. All proceeds of the Summer Musical help fund programs across the EVSC, including educator grants, classroom enrichment activities, and other student experiences—further enhancing public education in our community! Just last year, right before merging, the EVSC Foundation and PEF raised more than $1,343,000 for these important programs for students and teachers.
For more information about this year's Summer Musical production, The SpongeBob Musical, visit https://evscfoundation.org/summer-musical/.
Ticket Information:
What:                   The SpongeBob Musical, EVSC Foundation & EVSC Summer Musical
When:                  July 14 – 16, 2022 at 7:00pm and July 17, 2022 at 2:00pm
Where:                 Old National Events Plaza, Aiken Theatre
Tickets:                Tickets start at $10.00 for students, $15.00 for seniors, and $20.00 for adult tickets. Additional tax and fees may apply. Tickets are required for guests 2 years plus.
Tickets are available at the Old National Events Plaza Box Office or Ticketmaster.com.
For more information about the Aiken Theatre, visit www.oldnationaleventsplaza.com.
About the EVSC Foundation
The EVSC Foundation seeks to transform the community alongside EVSC by leveraging community partnerships and resources to support world-class educational experiences that empower all students to thrive. The EVSC Foundation is home to over 100 programs supporting public education educators and students in Evansville. The EVSC Foundation recently merged with the Public Education Foundation (PEF) and now sponsors PEF legacy programs such as the Summer Musical. To learn more about the EVSC Foundation, visit www.evscfoundation.org.
About Old National Events Plaza
Old National Events Plaza, managed by ASM Global, is Evansville, Indiana's premier convention center and largest live entertainment theatre. Housing a spacious 2,500-seat theatre, 38,000 square- feet of column-free exhibit space, a beautiful 14,000 square-foot ballroom, and 12,00 square feet of meeting space, Old National Events Plaza hosts a variety of events. The venue offers easy scheduling, one-stop-shop services, and in-house catering and audio-visual services. For more information and a complete schedule of events, please visit www.oldnationaleventsplaza.com.