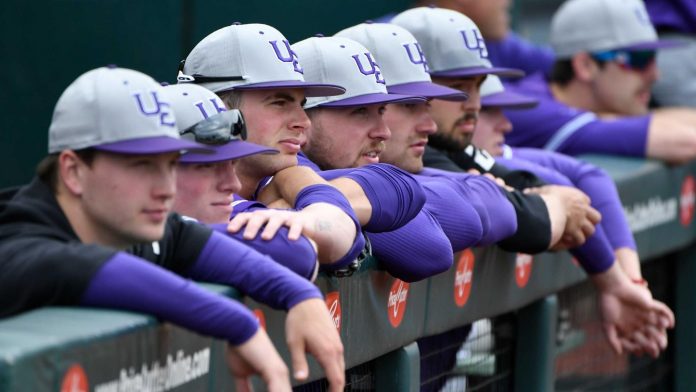 EVANSVILLE – In its penultimate conference series, the University of Evansville baseball team travels to the Lonestar State for a showdown with Dallas Baptist, beginning with a 6:30 PM first pitch on Friday at Horner Ballpark in Dallas, Texas.
Previewing the Matchup: Dallas Baptist
The Aces and Patriots are meeting for the 30th time in series history with DBU owning a 20-9 advantage in the all-time series.
Evansville and Dallas Baptist played a four-game set at The Braun last season with three of the four contests being decided by one run.
Entering the weekend, Evansville sits alone at the top of the MVC standings with a 12-3 mark in conference play, with the Patriots three games back at 9-6.
The Aces have won their last eight MVC contests, earning consecutive sweeps over Bradley and Illinois State. Evansville's lone loss in its last 12 Valley contests came in extra innings to Indiana State on April 22.
Ranking Among the Elite
As of Thursday morning (WarrenNolan.com), The Valley ranks 6th nationally behind the ACC, SEC, Big 12, Pac-12 and Conference USA.
Conference RPI
1.            ACC
2.            SEC
3.            Big 12
4.            Pac-12
5.            C-USA
6.            Missouri Valley
Entering this weekend, The Valley has four teams sitting in the Top 100 of the RPI, including DBU at No. 3, Evansville at No. 69, SIU at No. 80 and Missouri State at No. 92.
Three Over .300
Through 46 games, the Aces have three hitters sitting above .300 on the season.
Mark Shallenberger leads the way with a .363 average, good for seventh-best in the MVC.
The infield duo of Brent Widder (.328) and Simon Scherry (.308) also sit above the .300 mark.
Tanner Craig (.281), Eric Roberts (.279), and Evan Berkey (.277) are all within range of entering the .300 club.
As a team, the Aces are hitting .282 overall, but are up to .306 in conference contests, the best average in MVC play in The Valley.