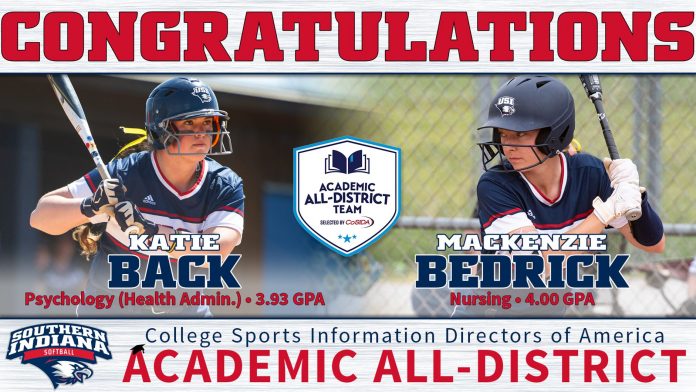 EVANSVILLE, Ind.—University of Southern Indiana Softball landed two student-athletes on the College Sports Information Directors of America Academic All-District IV team in a vote by the Midwest Region's sports information directors. Senior designated player Katie Back (Indianapolis, Indiana) and sophomore outfielder Mackenzie Bedrick (Brownsburg, Indiana) garnered the accolade after posting strong resumes on the field and in the classroom.
Back, a second-team All-GLVC honoree, entered the NCAA II Midwest Region #1 Tournament with a team-leading .389 batting average to go along with nine doubles, two home runs and 28 RBI. In the classroom, Back recently graduated with a degree in psychology and a minor in health administration. She had a 3.93 grade point average heading into the spring semester.
Bedrick, an honorable mention All-American a year ago, was named second-team All-GLVC and NFCA All-Midwest Region after hitting .367 with three doubles, two triples, 16 RBI and 17 stolen bases. The nursing major has a perfect 4.00 GPA in the classroom.
Both Bedrick and Back advance to the national ballot for Academic All-America consideration.
USI is currently taking on Saginaw Valley State University in the opening round of the NCAA II Midwest Region #1 Tournament at the USI Softball Field.