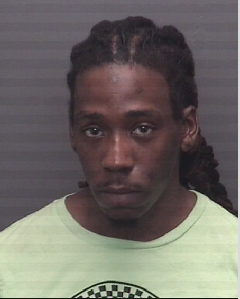 On April 29th, around 3:00 a.m., Evansville Police Officers were dispatched to a local hospital to meet with DCS in reference to a young child who was showing signs of an overdose. The hospital staff advised that it appeared to be an Opioid overdose and had to give the child Narcan treatment. A Detective with the EPD Juvenile Investigations Unit responded to the hospital and spoke with the mother of the child. She stated that the father had brought the child to the hospital but had left with their other child prior to EPD arrival. She told the detective that the father, later identified as 28-year-old Kevin Ladell Moman, woke her up and said that the child had put something in his mouth and was unresponsive. She said they rushed the child to the hospital. 
Kevin Moman was located at his apartment with his other child. Moman was brought to EPD Headquarters for an interview. He told the detective that the child followed him outside to his car. Moman saw that the child had something in his hand so Moman smacked it out of his hand. Moman said that about 20 minutes later, the child was unresponsive. 
Search warrants were later obtained by the EPD/VCSO Narcotics Joint Task Force for Moman's apartment. Surveillance video from the apartment complex was obtained that contradicted Moman`s account. The video did not show Moman exiting the apartment being followed by the child as he claimed. The video showed Moman removing items from the apartment after the child had been taken to the hospital and prior to the detective's arrival there. 
On today's date, the test results were received that revealed the child had tested positive for Fentanyl. Moman was brought to EPD Headquarters and confronted with the evidence. Moman stated he would not incriminate himself and refused to give an accurate account of what had occurred. Moman was arrested and charged with Neglect of a Dependent causing Serious Bodily Injury and was booked into the Vanderburgh County Confinement Center earlier today. 
The child has been released from the hospital and both children have been removed from the home by DCS while this investigation is still active. At this time, no charges have been filed against the child's mothe