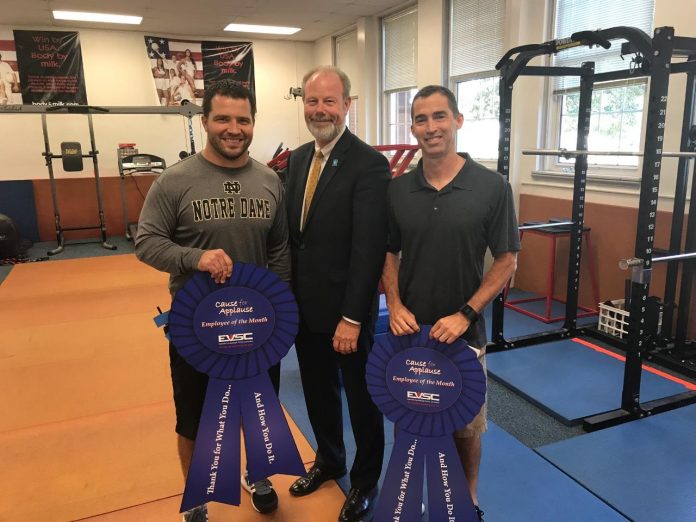 Two Washington Middle School teachers – Matthew Happe and Joe Newman – are the recipients of the Evansville Vanderburgh School Corporation's October Cause for Applause award. The award seeks to recognize individuals who go above and beyond their normal job responsibilities.
Happe and Newman were nominated by the staff of Washington Middle School and by Principal Michelle Branson for their efforts in turning an old health room at the school into an exercise and weight room for students and staff.
"A year and a half ago our teachers dreamed of having a place to teach students the value of fitness and to encourage our staff and students to get healthy," wrote Michelle Branson, Washington principal. "Through Donors Choose, Facebook requests, community outreach, faculty donations and grant orders, Matt Happe and Joe Newman have fulfilled that dream."
According to Branson, on any given day teachers will be working out before and after school and Happe will write fitness and wellness plans for staff and leave workout routines posted in the room.  The teachers also have incorporated the room in their PE curriculum to ensure students understand the proper weight lifting techniques and different types of workouts that are available.
"Their mission of healthy bodies and minds has definitely impacted both our students and faculty at Washington Middle School," Branson wrote.
Anyone can nominate an employee of the EVSC for the award. Deadline for nominations is the third Friday of each month. To nominate an EVSC employee, go to www.evscschools.com and click on About Us and see Cause for Applause under Community. Paper forms are available at the schools for those without access to the Internet.