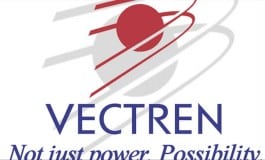 In response to new federally mandated rules on natural gas storage field safety, Vectren Energy Delivery of Indiana – South (Vectren) has filed a plan with the Indiana Utility Regulatory Commission (IURC) to enact enhanced safety measures needed for compliant operation of the three storage fields in its Vectren South territory in southwestern Indiana.
"Vectren has always been highly focused upon safety and reliability of our energy systems, and today's filing is to obtain the necessary regulatory approvals to enhance the safety systems of our natural gas storage fields to ensure compliance with new federal regulations," said Brad Ellsworth, president of Vectren Energy Delivery of Indiana – South.
To ensure that natural gas is available to all of our customers, even during periods of peak demand, Vectren has developed storage reservoirs that are unique underground warehouses which provide a ready supply of gas in times of peak demand. Storage reservoirs permit pipelines to operate at or near their design capacity throughout the year. During summer months, when pipeline capacity exceeds customer demand, natural gas is injected into the storage fields. During the winter months, when customer demand exceeds pipeline capacity, gas is withdrawn from storage facilities. Vectren's storage fields are located in Knox, Posey and Warrick counties.
Under the terms of the Pipeline Hazardous Material Safety Administration (PHMSA) rule, Vectren has developed a formal storage field integrity management program, which includes the updating of environmental protocols, enhanced storage field training and operator qualification programs and ongoing assessment of the condition of its storage assets. This $14 million program, if approved by the IURC, should have minimal bill impact to customers, approximately $0.80 per month, and will likely become effective in the summer of 2018. In the past, system modifications mandated by PHMSA as well as other Federal mandates, have been recovered through regulatory recovery mechanisms established by Indiana Senate Bill 251.
Even with this small incremental increase, natural gas bills continue to be significantly less compared to historic highs experienced prior to 2010 thanks to low, stable natural gas prices. Last year, the average annual gas bill was around $540. In the late 2000s, for example, customers saw annual bills that totaled nearly $1,000. As a reminder, Vectren South has among the lowest natural gas rates in the state. As of January 2017, Vectren South was in position #17 out of 18 companies; with #18 being the lowest natural gas company.
"A plan to comply with the new rule must be in place by January of 2018," continued Ellsworth. "Due to the current safety plans already in place Vectren's compliance with the new rule will be able to be achieved in an affordable manner for customers."