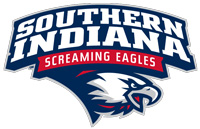 University of Southern Indiana Volleyball begins the 2017 season when it competes at the University of West Florida Hampton Inn-vitational Friday and Saturday in Pensacola, Florida.
The Screaming Eagles begin the weekend Friday by taking on the University of North Alabama at 2 p.m. and West Florida at 6 p.m. They square off with No. 2 Southwest Minnesota State University Saturday at 9 a.m., before concluding the weekend Saturday at 1 p.m. against the University of South Carolina-Aiken.
Live stats and video will be available for USI's first three matches, while their final contest will only have live stats.
USI Volleyball Notes
Farrell in history books. Senior libero Shannon Farrell (Munster, Indiana) begins the year ranked No. 3 all-time at USI with 1,359 career digs. She became the first player in program history with back-to-back 500-dig seasons a year ago and set the program record with 5.41 digs per set in 2016. Farrell needs just 131 digs to move into second all-time at USI and 489 to match Kaya Heldman's school-record 1,848.
Tough competition. USI plays three teams in its opening weekend that are earning recognition in the AVCA Top 25 Preseason Coaches' Poll. In addition to No. 2 Southwest Minnesota State, both North Alabama and West Florida are receiving votes outside the Top 25.
Openers. USI is looking to win its season-opener for the fifth straight year after beginning the 2016 season with four straight wins. The Eagles have not lost a season-opener since 2012.
Sunshine State. This weekend's games mark the second straight year and the fifth time since 2010 that USI has opened the season in Florida. It is the third time since 2010 that USI has opened the year in Pensacola and the fifth time during Head Coach Leah Mercer's career at USI.
Returning leaders. While Farrell returns to lead the Eagles' back row, USI will be led at the net by senior middle hitter Te'Ayla Whitfield (Fort Wayne, Indiana) and sophomore outside hitter Mikaila Humphrey (Floyd Knobs, Indiana). Whitfield averaged a team-high 0.82 blocks per set as a junior, while Humphrey led USI with 2.61 kills per frame during her rookie season. Junior setter Erika Peoples (Bloomington, Illinois) was fifth in the GLVC last year with a team-high 9.06 assists per set.
10-match skid. USI is looking to end a lengthy skid when it takes the court this weekend after losing 10 straight matches to end the 2016 campaign.