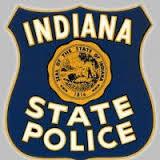 Vanderburgh County – Yesterday afternoon at approximately 4:21, Indiana State Police, US Marshal Service Task Force and Vanderburgh County Sheriff's Department responded to 681 Sweetser Avenue to locate and arrest Jaci McQueen, 22, who was wanted on a Vanderburgh County felony warrant.  When officers entered the residence they found McQueen sleeping in a downstairs bedroom. She was arrested without incident. Officers discovered a plastic bag in her front pants pocket containing five ½ pills that were later identified as Clonazepam and Alprazolam, both Schedule IV Controlled Substances. She also had a syringe in her purse.
There were also two other adults and two children inside the residence. The adults were identified as Kandice Rhodes, 28, and Darian Watt, 28, both residing at the residence. Rhodes' two children, an 8-year-old boy and a 7-year-old girl were also present.  Rhodes was in possession of a small bag of marijuana.
Watt was located in an upstairs bedroom. Officers detected a strong odor of marijuana when they entered the bedroom and observed a small amount of marijuana and several pills on a nearby TV stand. A black safe-box containing 110 grams of marijuana, two boxes of Ziploc baggies and one digital scale was located on Watt's bed. A local wanted check revealed Watt was wanted out of Vanderburgh County for failure to appear.
All three adults were arrested and taken to the Vanderburgh County Jail. Watt and McQueen are currently being held without bond. Rhodes is currently being held on bond. Rhodes' two children were released to her grandmother.
Arrested and Charges:
Jaci R. McQueen, 22, Evansville, IN
Possession of a Controlled Substance, Class A Misdemeanor
Visiting a Common Nuisance, Class A Misdemeanor
Petition to Revoke Probation (Warrant)
Darian A. Watt, 28, Evansville, IN
Maintaining a Common Nuisance, Class 6 Felony
Dealing Marijuana, Class A Misdemeanor
Possession of Marijuana, Class A Misdemeanor
Possession of Paraphernalia, Class A Misdemeanor
Possession of a Controlled Substance, Class A Misdemeanor
Failure to Appear for Possessing Marijuana (Warrant)
Kandice D. Rhodes, 28, Evansville, IN
Possession of Marijuana, Class B Misdemeanor
Possession of a Controlled Substance, Class A Misdemeanor
Neglect of a Dependent, Class 6 Felony
Maintaining a Common Nuisance, Class 6 Felony
Failure to Appear (Warrant)