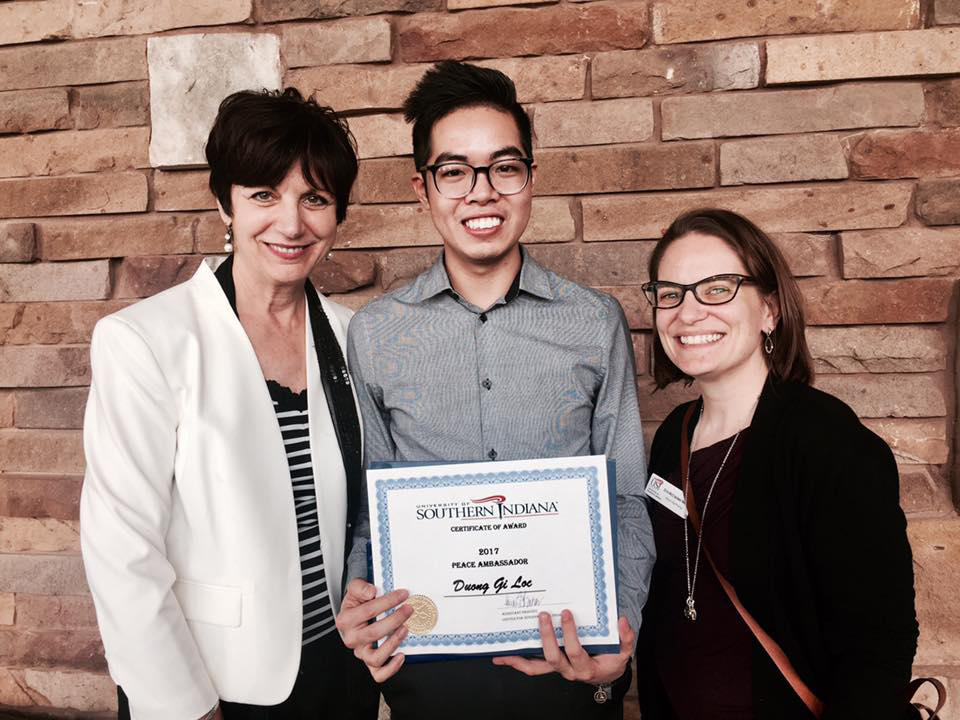 From left to right: Heidi Gregori-Gahan, assistant provost for International Programs and Services; Loc Duong, recipient of the Peace Ambassador Award; Erin McCracken-Merris, community engagement manager of Historic New Harmony and Duong's nominator. Image copyright: Provided. Click here to view this release in a browser and download images.
Recipients of USI Outstanding International Graduates and Peace Ambassador Award Named
International Programs and Services at the University of Southern Indiana has announced the recipients of the annual Peace Ambassador Award and Outstanding International Graduate awards during a reception on campus in April. The Peace Ambassador Award went to Loc Duong from Vietnam. The Peace Ambassador Award recognizes an outstanding international student whose actions and involvement in campus and community life have contributed to greater cross-cultural awareness and to increased understanding of the world, its peoples and its traditions.
Duong is a graduate student in the Masters of Public Administration program at USI. He enrolled in the program to better understand the differences between the public administration and political systems in Vietnam and the United States. During his college career at USI he has been active in the Student Government Association, participated in the Connect with Southern Indiana Leadership Program and spent two weeks in Vietnam assisting with student recruitment efforts.
Florence Takaendesa
The Outstanding International Graduate award recognizes an international student with outstanding leadership skills and academic achievement upon graduation from USI and, this year, both a graduate and undergraduate student was selected. The undergraduate recipient is a mathematics major from Zimbabwe, Florence Takaendesa.
Takaendesa has been active from the moment she set foot on the USI campus, co-founding KESHO, a student organization whose mission it is to empower and support women from developing countries. She was one of only 25 Moremi Initiative Leadership and Empowerment Development (MILEAD) Fellowes selected from a pool of over 3,000 applicants. This group "represents Africa's most promising young women leaders, with the courage and commitment to lead and shape the future of Africa. She also has served as a facilitator for the USI Global Leadership Workshop and received a Global Ambassador Scholarship to attend USI.
Shadrach Mensah
The Outstanding International Graduate award for a graduate student went to Shadrach Mensah of Ghana. He enrolled in the Masters of Public Administration program with a long-term goal of starting a non-profit organization that caters for homeless and underprivileged children. During his time at USI he has helped develop global engagement initiatives which provide service-learning opportunities for USI students in the Evansville community. His volunteer recruitment efforts have led to the accruement of more than 700 hours of community service by USI students at homeless shelters, afterschool programs and other community organizations.