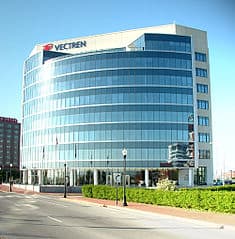 Crews working for Vectren Energy Delivery of Indiana – South (Vectren) continue efforts to upgrade portions of Vectren's substations and transmission and distribution networks to maintain reliable electric service. Through the next few months, approximately 30 projects – investments of nearly $16 million – will be completed as part of the Smart Energy Future strategy. Projects aimed at upgrading Vectren's electric infrastructure will continue to take place throughout the southwestern Indiana territory over the electric grid modernization plan's seven-year period.
When possible, impacted customers will receive direct communication about the upcoming work, especially for projects that require a service interruption. Upcoming projects include:
 Circuit (a specific grouping of poles and lines delivering power) rebuild and conversion projects– upgrading and replacing hardware and equipment on the circuit, which leads to shorter restoration times, a reduction in the number of emergency repairs needed and increased system performance and integrity  
Evansville: N. Weinbach circuit (along Walnut Avenue between Weinbach Avenue and Kelsey Avenue) serving 450 customers
Evansville: Washington Avenue circuit (bound by Weinbach Avenue, Blackford Avenue, Gum Street and Alvord Boulevard) serving 250 customers
Evansville: Union Township circuit (south of Evansville along Seminary Road, Eisterhold Road and Graff Road) serving 300 customers
Evansville: Bellemeade circuit (north and south of Bellemeade Avenue between Rotherwood and Weinbach Avenue) serving 370 customers
Mt. Vernon: North Main circuit (between Wolflin Street and SR 69, north of Fifth Street) serving 310 customers
Newburgh: Newburgh circuit (along SR 662 from Grimm Road to Yorkshire Road) serving 1,100 customers
Underground cable replacement projects – replacing aging underground cable, which leads to a reduction in risk of unplanned outages, faster outage restoration when outages occur and reduced customer interruption duration by sectionalizing the area in need of repair
Evansville: Westhaven Hills Subdivision (off of Red Bank Road) serving 110 customers
Evansville: Sugar Mill Creek Apartments (south half of apartments, east of Green River Road) serving 450 customers
Santa Claus: Christmas Lake (along Melchior Drive in Christmas Lake Village) serving 1,000 customers
Richland City: Hodges Subdivision (along Hodges Drive east of SR 161 and south of Richland City) serving 20 customers
Generally, customers will notice projects beginning when crews have placed signage in the area. The duration of these projects usually span two to six weeks, barring weather delays.
Customers can learn more about Vectren's grid modernization plan and its customer benefits atwww.vectren.com/SmartEnergyFuture.