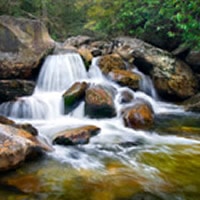 Bruce Gene Foreman went home to be with the Lord on July 1, 2019 at St. Anthony's Hospice in Henderson. He was born in Evansville, In on August 24, 1959. He was graduated from Henderson County High School. He was a member of Jerusalem Baptist Church.
Bruce was a cook at Rally's Restaurant. In his spare time, he enjoyed fishing and doing crossword puzzles. He loved being with his family whenever he could. Bruce never met a stranger and was loved by all who came in contact with him. He was preceded in death by his mother: Zittie Foreman.
He leaves behind to cherish his memory, one daughter: Angie Floyd; 2 grandchildren; six siblings: Keith Foreman, Joe foreman, Tony Foreman, May Foreman, Stacy Foreman, James Foreman. A host of nieces, nephews and great nieces and nephews.
Bruce is gone but not forgotten! We're going to miss him but God loves him more!
Something that we always said was "Am I my brother's keeper?" and we all said, "Yes, I am!" God is keeping you now, brother!
To send flowers or a memorial gift to the family of Bruce Gene Foreman please visit our Sympathy Store.