James Shanahan: Media Mergers Add To Gloomy Outlook For Democracy At Home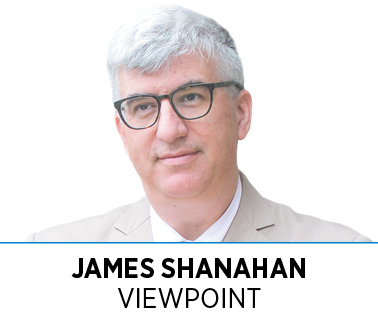 Local newspapers have been in trouble for some time, with increasing concentration of ownership adding to the already dire prospects for advertising, subscription income and any other funding modes that might preserve locally reported and edited news.
For those who think democracy in our towns and cities depends on effective and professional communication at home, shakeouts of local news toward corporate ownership are depressing. Will we add the local paper to the list of casualties of digital degradation that made things worse, not better (such as vinyl records, printed books, celluloid film)? Undoubtedly so, at least for many people.
We certainly didn't need last month's announcement of the Gatehouse-Gannett merger to be apprehensive about the future.
Those with an inclination might keep their paper, but it seems less and less likely to be a local one. Those who find the digital news-reading experience infuriating, with its annoying pop-ups and electronic detritus interfering with what had been a pleasurable experience, can turn to national or regional papers. But of course, that local content will have gone elsewhere.
We've heard lots of stories in our school from the front lines. Pictures of deserted newsrooms, desks are strewn with the last front page a human worked on, papers so thin you can see through them. It's hard to believe the layoffs that come with corporate ownership can fix any of this, but there might be no other choice.
Something will fill this vacuum. Some communities, such as our own, have fine public media and award-winning student media. Other towns might continue to have owners who stick with the business, focused as much on community service as on any economic motives.
Communities that don't have these options will be riding the big yellow taxi (we don't know what we got 'til it's gone) toward less informed, misinformed, disinformed. It's easy to imagine that such communities will eventually pay an invisible tax for the loss of their local news, as officials who had previously been held accountable by the local paper operate more freely and, eventually, corruptly.
We can hope digital and social media will replace some of these lost functions, although we now have enough experience with the new media to be skeptical on that count. The internet might still find a way to train and pay for local editors and reporters who are about to lose their jobs in a corporate merger, but it's an open question as to how that could happen.
In our school, we are still educating people to do these jobs. When those students leave, they are given job titles we scarcely imagined a few years ago. But these digital natives are as aware as any one of the headwinds they face.
My thought has always been that someone in our school, probably a student, will find a way to address journalism's economic crisis. If not, the current media climate will spin communities into the same polarized oppositions we are seeing at the national level. Cable news can't fix these problems, certainly not in your town.
If we can dim that screen for a minute, let's think together about how to preserve the kinds of journalism we would value and that still might have a fighting chance.
FOOTNOTES:  The City-County Observer posted this article without opinion, bias or editing.