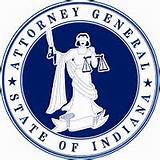 At a press conference today, Attorney General Curtis Hill discussed his ongoing determination to strengthen drug interdiction efforts across Indiana, including a collaboration with the Indiana Drug Enforcement Association (IDEA) to provide funding to regional interdiction teams.
"Enforcement, in addition to prevention and treatment, remains a key component in our efforts to fight the devastating drug crisis gripping Indiana," Attorney General Hill said. "By increasing interdiction, we are sending the message loud and clear that Indiana is not a safe place for illegally transporting drugs. Criminals need to know they will be caught, they will be arrested and they will be prosecuted."
Through a $1.25 million grant to IDEA, the Office of Indiana Attorney General is supporting the establishment of highway interdiction teams (HITs) statewide. These teams, comprised of officers and drug-detection dogs, are cracking down on criminals who use Indiana thoroughfares to carry out their nefarious deeds.
"As a matter of prudent policy, Indiana must pursue a strategic, statewide interdiction plan," said IDEA Training/Operations Director Gary Ashenfelter. "The grant funding being provided to police agencies enables the placement of teams to interdict the flow of illegal substances being transported into our communities."
The press conference was held at the Allen County Sheriff's Office, where Attorney General Hill announced that the Allen County Sheriff's Office and the Fort Wayne Police Department each will receive approximately $50,000.
"Like everywhere else in Indiana, we see here in Allen County a strong correlation between drug trafficking and many other types of crimes," said Allen County Sheriff David Gladieux. "By taking down drug traffickers, we can keep people safer and neighborhoods more peaceful."
That sentiment was seconded by Fort Wayne Police Chief Steve Reed.
"Criminals are becoming a lot more sophisticated in their methods, and we as police need to become a lot more sophisticated in ours as well," he said. "Properly equipping these interdiction teams will help us stay a step ahead of the criminal element, which is always a challenge."
In the month of April, HITs conducted 273 drug-related investigations. These yielded 16 arrests; 12 pounds of marijuana; a pound of methamphetamine; and pills and cocaine with a street value of more than $65,000. Additionally, a handgun and $16,000 in cash were confiscated.
"A primary objective of any investigation is to collect solid evidence of any criminal wrongdoing that has occurred," said Allen County Prosecutor Karen Richards. "Boosting interdiction efforts will help us build strong cases against individuals breaking the law and endangering local residents. I support this effort 100 percent."
Through the grants, a total of eight police cars and five police K-9s have thus far been purchased for agencies to use. Also purchased were tracking software, two-way radios and emergency police equipment such as lights and sirens.
Eight interdiction teams have thus far been beneficiaries of the grants:
Allen County Sheriff's Office and Fort Wayne Police Department
Dearborn County Sheriff's Office and Dearborn County Special Crimes Unit (Prosecutor's Office)
Elkhart County Intelligence and Covert Enforcement (ICE) Unit (Prosecutor's Office)
Evansville Police Department and Vanderburgh County Sheriff's Office
Kokomo Police Department
Lafayette Police Department and West Lafayette Police Department
Lake County Sheriff's Office
Porter County Sheriff's Office
Attached are a map showing locations of the eight interdiction teams and several photos from today's press conference. (Evidence pictured on the table is marijuana and methamphetamine confiscated during Allen County interdiction efforts.)