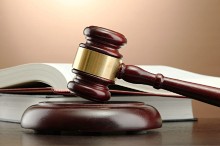 February 2017 Bar Exam Results Released
IL for www.theindianalawyer.com
A total of 126 people passed the Indiana Bar Exam given in February 2017. The Indiana Board of Law Examiners released the list of successful test takers Monday but did not provide additional information on the overall number of exam takers and the overall pass rate.
The list of those who passed can be found here.
For the most part, Indiana's overall passage rate for the February exam had been roughly hovering between 67 percent and 70 percent since 2007. It dipped in 2014 to 61 percent then bottomed out at 55 percent in 2016.
Last week, the American Bar Association Journal reported that the February 2017 multistate bar exam results were the lowest since the test was first given in 1972. The average score was 134.1, down from last February's average score of 135.
Among those who passed Indiana's February 2017 were four members of the inaugural class at Indiana Tech Law School. This brings the school's total to seven from last May's graduating class who have passed the bar.
Indiana Tech Law School has announced it will be closing in June.