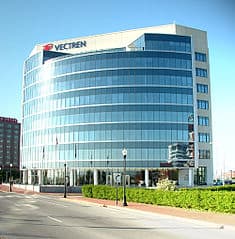 Vectren Reaches Agreement With OUCC, CAC
To construct 50 Megawatts Of Renewable Energy in Southwestern Indiana
Vectren Energy Delivery of Indiana (Vectren) announced it has reached an agreement with the Indiana Office of Utility Consumer Counselor (OUCC) and the Citizens Action Coalition (CAC) to build a 50-megawatt (MW) universal solar array in eastern Spencer County as part of Vectren's long-term electric generation transition plan. The agreement was filed yesterday with the Indiana Utility Regulatory Commission (IURC).
In reaching the agreement, the three parties worked to create a customer-friendly rate mechanism that maximizes the available tax incentives associated with solar projects and spreads all costs evenly over a 35-year period.
"This significant renewable resource, a key piece of Vectren's Smart Energy Future vision, will be among the largest single-sited solar farms in the Tri-State and will serve Vectren customers for decades to come," said Carl Chapman, chairman, president and CEO of Vectren. "We are pleased to be able to reach agreement with these consumer advocates to arrive at an approach that works best for all stakeholders,"
The solar farm will be located near Troy, Ind., on approximately 300 acres and will consist of about 150,000 solar panels. The array will be mounted on a single-axis tracking system, which enables the panels to automatically pivot to enhance energy generation as the sun's rays move across the surface of the Earth.
Vectren's solar projects currently underway, which are around 4 MW, and this planned facility, which should be fully operational in the fall of 2020, are expected to generate enough power to meet the needs of more than 12,000 households per year. When including Vectren's 80 MW of wind power purchased through contracts with Benton County wind farms and its 3.2-MW landfill gas facility in Pike County, there will bill enough renewable energy in Vectren's portfolio to power more than 35,000 homes.
Construction of the solar farm will begin after the IURC authorizes the project; a decision is expected in the first half 2019. First Solar, a leading global provider of comprehensive photovoltaic (PV) solar systems, will build the solar farm. During construction, the project will support up to 250 jobs. Vectren worked with Orion Renewable Power Resources, LLC, a joint venture between Orion Renewable Energy Group and MAP® Renewable Energy, to select, secure and eventually develop the property.
About Vectren
Vectren Corporation (NYSE: VVC) is an energy holding company headquartered in Evansville, Ind. Vectren's energy delivery subsidiaries provide gas and/or electricity to more than 1 million customers in adjoining service territories that cover nearly two-thirds of Indiana and about 20 percent of Ohio, primarily in the west central area. Vectren's nonutility subsidiaries and affiliates currently offer energy-related products and services to customers throughout the U.S. These include infrastructure services and energy services. To learn more about Vectren, visit www.vectren.com.