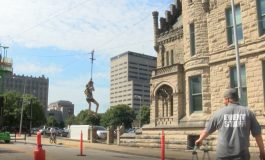 Celebrating The Vanderburgh County Bicentennial
Most people can't say they celebrate their birthday longer than a day, but when it's a 200th birthday the circumstances change.
People from Vanderburgh County were out celebrating the 200th birthday.
County commissioners want to celebrate the big 200 all year long. Their latest event included live music, food trucks, inflatables, and ziplining.
The birthday bash was held at the Old Courthouse as a part of their lunch on the lawn series which started back in May.