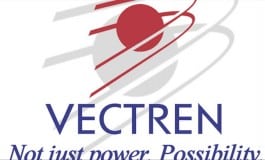 Vectren, Utility Consumer Counselor Reach Agreement On Energy Grid Modernization Plan
 Evansville, Ind. – Vectren Energy Delivery of Indiana – South (Vectren), Indiana Office of Utility Consumer Counselor (OUCC) and a coalition of industrial customers have reached a settlement agreement regarding Vectren's seven-year improvement plan to  enhance reliability and modernize its electric infrastructure, which was filed in February of 2017. The settlement agreement was filed yesterday with the Indiana Utility Regulatory Commission (IURC) and completes a collaborative effort among Vectren, the industrial group and the OUCC. The IURC is expected to rule on the settlement no later than September.
The electric system improvement plan includes upgrades to portions of Vectren's network of substations, transmission and distribution networks that serve seven counties in southwestern Indiana. The original plan featured more than 800 projects and was estimated to cost $514 million over the plan's seven-year period.
The settlement agreement reduces the plan spend to $446 million. The majority of the $68 million reduction relates to the removal of advanced metering infrastructure (AMI or digital meters) from this plan. However, deferral of the costs for AMI was agreed upon in the settlement whereby the company can move forward with deployment in the near-term. In removing it from the plan, the request for cost recovery for the project will not occur until the next base rate review proceeding, which will begin in 2023.
"This settlement is an important step in our efforts to ensure our energy grid is resilient and more capable of meeting the energy demands of our customers for years to come, including maintaining the reliability our customers have come to expect," said Carl Chapman, Vectren chairman, president and CEO. "Although we agreed to remove some projects from the final plan, we will phase in advanced digital meters, likely beginning next year, as this technology provides many benefits to our customers, including the elimination of estimated meter reads and detailed insight into daily energy usage. This will help customers manage their energy consumption and help Vectren manage the energy grid."
If the settlement is approved as filed, electric bills will be gradually adjusted likely beginning in early 2018, and adjustments will continue with modest increases in subsequent years as the improvement projects are completed. In 2018, the typical residential electric customer would pay $1 to $2 more per month. The bill impact at the end of the seven-year period will now be $16 to $17 per month compared to $18 to $20 per month in the original filing.
Under the settlement terms, the company has also agreed that as bills increase during the seven years to recover the cost of the plan, fixed monthly charges related to the plan for residential and other small customers will not exceed $7 per month by the end of the period – about half of the fixed charge it had proposed in February. That means that by year seven, up to only $7 of the expected $16 to $17 monthly increase will be recovered in a fixed monthly service charge while the remaining portion will be recovered volumetrically (based on usage).
Customers can learn more about Vectren's grid modernization plan and its customer benefits atwww.vectren.com/SmartEnergyFuture.
Vectren Energy Delivery of Indiana – South delivers electricity to approximately 145,000 customers in all or portions of Gibson, Dubois, Pike, Posey, Spencer, Vanderburgh and Warrick counties.
 About Vectren
Vectren Corporation (NYSE: VVC) is an energy holding company headquartered in Evansville, Ind. Vectren's energy delivery subsidiaries provide gas and/or electricity to more than 1 million customers in adjoining service territories that cover nearly two-thirds of Indiana and about 20 percent of Ohio, primarily in the west central area. Vectren's nonutility subsidiaries and affiliates currently offer energy-related products and services to customers throughout the U.S. These include infrastructure services and energy services. To learn more about Vectren, visit www.vectren.com.