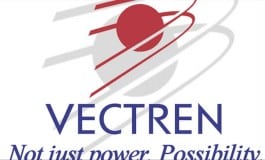 Evansville, Ind. – Extreme temperatures the last half of December 2017 through the first half of January this year have led to gas usage in volumes which rival the highest ever seen. The volume of gas delivered through Vectren's 3,200-mile pipeline network to its 110,000 customers in southwest Indiana from Dec. 15, 2017 through Jan. 15, 2018 is projected to be among the highest ever delivered.
"It goes without saying the bitter cold weather has forced furnaces to work harder, and the spike in gas deliveries demonstrates just how cold it's has been over the past few weeks," said Brad Ellsworth, president of Vectren Energy Delivery of Indiana – South.
The average customer will see a bill that is 25 to 30 percent higher than the bill they received during this same four-week period last year.
"With usage up this sharply, customers will see higher bills than last winter, and we encourage those that are challenged to pay to reach out to us for payment options," added Ellsworth. "On a positive note safe, reliable delivery is enhanced with the Smart Energy Future infrastructure projects that Vectren continues to perform on our energy delivery system."
Customers who need assistance managing costs should contact Vectren at 1-800-227-1376. Qualifying customers can set up a payment arrangement whereby they can pay the bill in smaller increments over a set period of time. This is a free service with no interest charges. In addition, Vectren can offer guidance on income-qualified energy assistance. Energy efficiency tips and resources can be found at Vectren.com/saveenergy.
Customers utilizing electric space heating can expect to see a difference in bills as well. Bills during this same 30 day timeframe due to extremely cold temperatures are forecasted to increase around 25 percent.