The Propeller Club of the United States, Port of Evansville In, is celebrating Maritime Day 2015 May 23rd on the LST 325. Touring the LST...
Community members looking to leave their mark permanently outside of St. Mary's Medical Center now have an opportunity to do so. St. Mary's Health...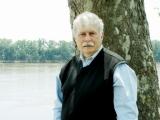 Gavel Gamut By Jim Redwine (Week of 27 April 2015) A COUNTRY FOUNDED ON LAW President Eisenhower had some good ideas. While I sometimes have my doubts about...
Parents in Evansville and the surrounding area have another option for summer childcare – EVSC Camp Cruisin'. Camp Cruisin' is a full-day summer childcare...
BOSTON 2015 FEATURING MICKEY THOMAS PRESENTED BY 35 CONCERTS AND VENUWORKS WEDNESDAY, JULY 15, 2015 AT 7PM TICKETS ON SALE FRIDAY, April 24 AT 10AM Back by popular demand, Tom...
Reserve your tickets today! CENTRE'D ON KIDS CHILDREN'S BROADWAY SERIES 2015-2016 Frosty - 12/1/15 ```````` Charlotte's Web - 1/21/16 ```````` Alexander Who's Not Not Not Not Not Going To Move...