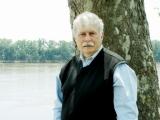 Gavel Gamut By Jim Redwine (Week of 03 May 2015) THE NATIONAL PASTIME Those of us who play or played baseball know spring only truly arrives with the...
St. Mary's Trauma Centers will offer a free community event, "Standing Together to Prevent Falls," to help older adults stay healthy, active, and independent....
Latte (pictured) – Are the kids still asking for a rabbit long after Easter? Look no further than Latte, a 2-year-old female American rabbit! She is orange/tan...
Registration for the University of Evansville's College of Engineering and Computer Science OPTIONS summer camps has been extended to May 15. OPTIONS for Middle School...
Victory Theatre was the place to be on Wednesday night as Starset, The Pretty Reckless and Halestorm took the stage for a sold out...
CHEAP SEATS!    Friday, May 1st at 7:30pm Live Nation presents BILL BURR Now you can see this Friday's show "The Billy Bible Belt Tour" for only $19! What...