Air quality forecasts for Evansville and Vanderburgh County are provided as a public service.  They are best estimates of predicted pollution levels that can be used...
Beyond the Book Tuesday, January 24  6-7:30pm Adult Winter Reading Challenge! January 9 - February 28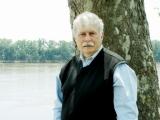 Gavel Gamut By Jim Redwine www.jamesmredwine.com (Week of 23 January 2017) HOW TO CARVE AN ELEPHANT: Take a block of marble and chip away everything that isn't an elephant....
IMPD Officer Was Qualified As An Expert In Stalking Case Olivia Covington for www.theindianalawyer.com An Indianapolis Metropolitan Police Department sergeant was qualified as an expert to...
Zoeller Ends Public Service With Donation To Bar Foundation IL for www.theindianalawyer.com Saying he is stepping out of public life, former Indiana Attorney General Greg Zoeller...
Olivia Covington for www.theindianalawyer.com The Indiana Court of Appeals has reversed judgment in favor of a credit card debt collector after determining that the collector...
Retiring Rucker Says He's No Trailblazer, But Urges Diversity On CourtDave Stafford for www.the indianalawyer.com As the first African-American to serve on the Indiana Court...
Established in 1899, B. J. Shetler began his young company with two teams of horses and wagons, which traveled as far as Princeton and...
Winter of 1917-1918 This view of Southeast Second Street was photographed from Main Street, across the street from the Strouse & Bros. store, in...
YESTERYEAR: ORR IRON COMPANY BY PAT SIDES, Archivist of Willard Library  Orr Iron Company employees gathered outside of their building in 1949 after a fire safety...
As early as 1856, the federal government recognized Evansville's significance as a transportation center by designating it an official Port of Entry. Evansville businessman...
Erica Schmidt, formerly Director of Development for Ivy Tech Foundation Southwest, has been named the interim Executive Director for Resource Development for the Foundation....
The EVSC will host a groundbreaking ceremony for McCutchanville Elementary School – the new school being built on the northside – on Saturday, Feb....
Puller / Packer Rayloc  9 reviews - Morganfield, KY Rayloc is a Division of Genuine Parts Company which provides Engineering, Manufacturing, Procurement and Distribution of automotive aftermarket parts...
Customer Service Specialist Best Buy  11,418 reviews - Evansville, IN Helps answer questions and resolve customer issues. Flex as coverage between Checkout, Store Pickup and Customer Service as...
Field Technician Spectrum  11 reviews - Evansville, IN Must possess and maintain a valid Driver's License and safe driving record. The ladders, buckets and other climbing equipment necessary...
Clinical Office Assistant CMA - Research Deaconess Health System  23 reviews - Evansville, IN CPR provider certification required. Current certification from the American Association of Medical Assistants (CMA)...
"The Volunteer Lawyer Program of Southwestern Indiana is pleased that local attorney and former Evansville Bar Association President Scott Wylie will become the...
AG-elect Says Drug Offenders Need To Be Held Accountable by Marilyn Odendahl for Indiana Lawyer Daily Since the Legislature revised the state's criminal code to provide...
SHEN YUN 2017 Don't miss Shen Yun Performing Arts with a live orchestra at the Aiken Theatre on Saturday, February 25 at 7:30pm and Sunday...
BRYAN FOX TO WRITE RESTAURANT, CONCERT AND MOVIE REVIEWS FOR CITY COUNTY OBSERVER Starting later this week well known free lance writer BRYAN FOX  shall...
VICTORY THEATRE MARCH 23 TICKETS GO ON SALE FRIDAY, JANUARY 20 AT 10 AM Evansville, IN- One of Ireland's leading tenors brings you an evening...
2017 Kicks Off With People's Choice, iHeartRadio Award Nominations Platinum-selling recording artist and The Voice's five-time victorious coach Blake Shelton reaffirms a commitment to his...