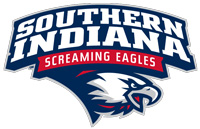 The University of Southern Indiana baseball team returns to the friendly surroundings of the USI Baseball Field this week to host Kentucky Wesleyan College (18-18) Tuesday at 6 p.m. before a three-game showdown with fourth-ranked University of Tampa (31-5) April 20-21. Start times for the USI-Tampa series are set for 6 p.m. April 20 and 21, prior to concluding the three games with a noon first pitch April 22.
Game coverage of the Screaming Eagles baseball games this season can be found on GoUSIEagles.com. Watch Twitter, Facebook, and GoUSIEagles.com for any schedule changes due to weather.
SCREAMING EAGLES BASEBALL NOTES:
USI goes 2-3 last week. USI (18-16) saw its winning streak go to nine games with a victory over Oakland City University, 6-3, to start last week's action before going 1-3 in GLVC action over the weekend at Bellarmine University. The Eagles, in the four-game set with Bellarmine, lost the opener 6-5; game two, 8-5; and game three, 7-6; and rallied to salvage game four,13-8.
USI the last five games. Senior utility player Nick Gobert (Jasper, Indiana) led the Eagles last week with a .579 batting average (11-for-19), six runs scored; three doubles, two triples, and 10 RBIs.
Hitting Streak. Senior rightfielder Buddy Johnson had his hitting streak snapped after a career-high 12 games in the nightcap of the first doubleheader at Bellarmine. Senior utility player Nick Gobert has the team's best hitting streak this season, reaching 13 games. Kyle Kempf owns USI's longest hitting streak, 26 games (last 12 games of 2015 and first 14 games of 2016).
USI at the plate this season. Senior first baseman/leftfielder Drake McNamara leads USI hitters in 2018 with a .386 batting average and a team-high 37 RBIs, 15 doubles, and six home runs. Senior utility player Nick Gobert, who has seen action at first base, third base, right field, and on the mound, follows with a .358 batting average and ranks second on the squad with 35 RBIs, while rightfielder Buddy Johnson is third with a .357 batting average and 32 RBIs.
USI on the mound this season. Senior right-hander Devin Williams (Evansville, Indiana), senior right-hander Kyle Griffin (Morganfield, Kentucky), senior utility player Nick Gobert, and sophomore right-hander Tyler Hagedorn lead the Eagles with three wins each. Griffin also has a team-best 55 strikeouts.
Out of the bullpen. Junior right-hander Dalton Lewis (Parker, Colorado) has USI's best ERA in 13 appearances in relief (2.19). Lewis, sophomore right-hander Jacob Bowles, and sophomore right-hander Tyler Hagedorn are tied with one save each.
Moving up the charts. Senior first baseman/leftfielder Drake McNamara and senior third baseman/shortstop Sam Griggs (Evansville, Indiana) are moving up the USI all-time record book.
McNamara