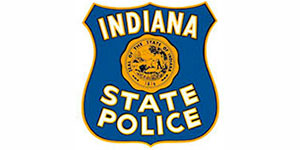 Posey County – At approximately 2:15 pm this afternoon, Senior Trooper Kylen Compton assisted Posey County Deputies with an arrest warrant at 1055 Old Beech Rd. Upon arrival, S/Trp. Compton spotted a Gold Chevrolet Blazer leaving the residence with an expired license plate.  S/Trp. Compton stopped the Blazer on SR 69 near Old Beech Road.
The driver of the vehicle was identified as Robert McCarty.  McCarty was the individual S/Trp. Compton and Posey County Deputies were attempting to serve the arrest warrant on at 1055 Old Beech Rd.  McCarty was wanted on an outstanding warrant through Posey County for Criminal Confinement, Battery Resulting in Moderate Bodily Injury, Strangulation, and Interference with the reporting of a crime. McCarty was taken into custody by S/Trp. Compton and allegedly became uncooperative and combative with S/Trp. Compton after being placed into custody. At one point McCarty attempted to spit on S/Trp. Compton.
McCarty was arrested and transported to the Posey County Jail where he is currently being held on bond.
Arrested and Charges:
Robert Eugene McCarty, 32, 1055 Old Beech Road, Mt. Vernon,
1. Warrant through Posey County
2. Resisting Law Enforcement