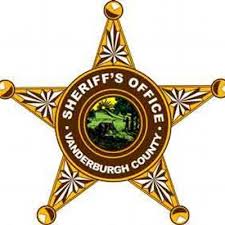 Man Pulls Knife On Deputy Outside Of Courthouse
A Bloomington man is in custody today after threatening a deputy with a knife and attempting to grab another deputy's Taser.
The incident began just before noon when a deputy assigned to the Vanderburgh County Courts Building responded to a report of a vehicle parked on the sidewalk near the north steps of the Evansville Teachers Federal Credit Union Plaza Building. Finding no one inside the vehicle, the deputy went inside the plaza building to check for the owner. The deputy located the owner, who later identified himself as Mr. Abraham Loganray. Mr. Loganray admitted to being the owner of the vehicle, but quickly exited the building despite the deputy asking him to stop.
The deputy followed Mr. Loganray outside and once again ordered him to stop. Mr. Loganray then produced a flashlight, which he shined into the deputy's eyes. He then removed a folding knife from his pocket, which he opened and began waving around. The deputy pointed his service pistol at Mr. Loganray and ordered him to drop the knife. Mr. Loganray then closed the knife and entered his vehicle. The deputy then attempted to remove Mr. Loganray from the vehicle as he started the engine. Additional deputies arrived to assist. During the struggle, Mr. Loganray grabbed a deputy's Taser and attempted to remove it from a retention holster. Mr. Logan struggled during the arrest, refusing to be handcuffed and forcefully preventing his hands from being placed behind his back. Mr. Loganray was eventually overpowered and was able to be handcuffed without further incident. Mr. Loganray sustained minor abrasions and contusions as a result of the struggle.
Mr. Loganray (who is also known as Mr. Charles Logan Ray) remains lodged in the Vanderburgh County Jail with no bond yet set.
ARRESTED:
Abraham Loganray (aka: Charles Logan Ray), 26, of Bloomington. Disarming a Law Enforcement Officer as a Level 5 Felony, Intimidation with a Deadly Weapon as a Level 5 Felony, Resisting Law Enforcement as a Level 6 Felony, Disorderly Conduct as a Class B Misdemeanor
FOOTNOTE: Presumption of Innocence Notice: The fact that a person has been arrested or charged with a crime is merely an accusation. The defendant is presumed innocent until and unless proven guilty in a court of law.