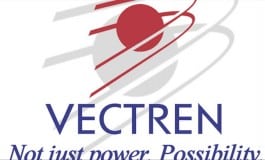 In an effort to remind residents to dial 8-1-1 before digging, Aug. 11 has been designated National Call Before You Dig awareness day. Not only does it ensure the safety of all involved, but it is the law to inform local utility companies regarding the intent to dig at least two full days prior by calling the national 811 free service. After telling the 811 operator where the digging will take place and the type of work involved, the approximate location of buried lines, pipes and cables will be marked.
Throughout 2016, Vectren Energy Delivery (Vectren) responded to roughly 1,000 damages to underground lines and pipes. Striking a single line can cause injury, repair costs, fines and inconvenient outages. Installing a mailbox, building a deck, planting a tree and laying a patio are all examples of digging projects that need a call to 811 before starting.
The depth of utility lines can vary for a number of reasons, such as erosion, previous digging projects, and uneven surfaces. Utility lines need to be properly marked because even when digging only a few inches, the risk of striking an underground utility line still exists.
"Calling 811 is easy, free and can ultimately save a life," said Mike Roeder, president of Vectren Energy Delivery of Indiana-North. "Every six minutes, an underground utility line is damaged from someone not calling 811 first. We hope by educating our customers, together we can keep one another safe while improving that statistic."
For more details, visit www.vectren.com or www.Indiana811.org.